It was featured on one of my favorite food porn sites called tastespotting.com. This site may cause major droolage and jaw tingling. You have been warned.
Since the curry dish looked so appetizing, I wanted to try out the recipe. It seemed simple enough anyway.
The recipe calls for curry leaves, curry powder & fenugreek leaves which I have never even heard of. We had to make a special trip to a local Indian grocery store to get these things. I had a hard time trying to find the fenugreek leaves so I asked the clerk to point them out. The box read something totally different and had I not asked, it would've probably taken me hours to find it. We also bought a couple samosas which were resting under a heat lamp, frozen okra with potatoes and a couple packets of premade basmati rice (lemon & curry flavored). Since the store didn't carry any fresh fish we had to go to Albertson's to get tomatoes and cod.
I started out by getting all my ingrediants prepped.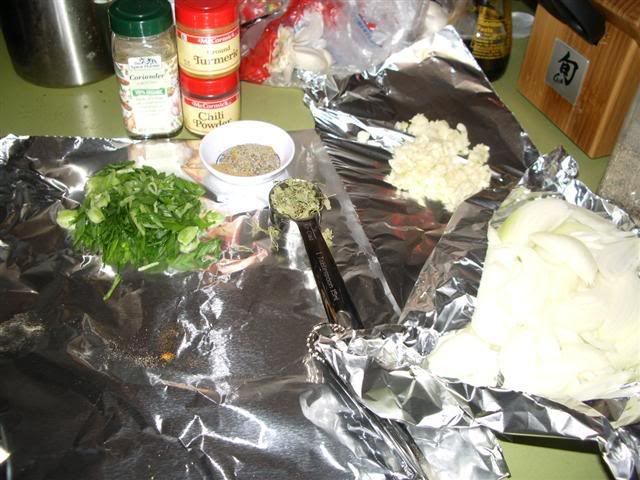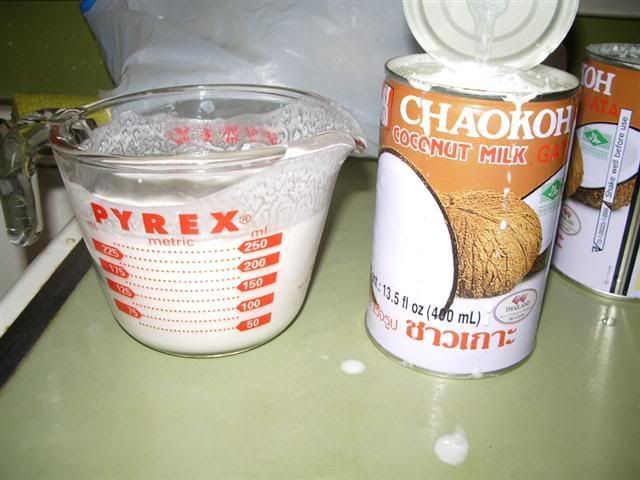 Then I sauteed the onion and bay leaf. I kind of had an oopsie here. I totally forgot to get curry leaves at the Indian grocery store so I used a couple bay leaves to substitute. Next time I'll use the real thing.
After the onions were tender, I added the garlic, coriander, curry powder, tumeric, pepper, and chili powder. I let that saute until the tumeric turned everything a deep golden color. Then I added the coconut milk.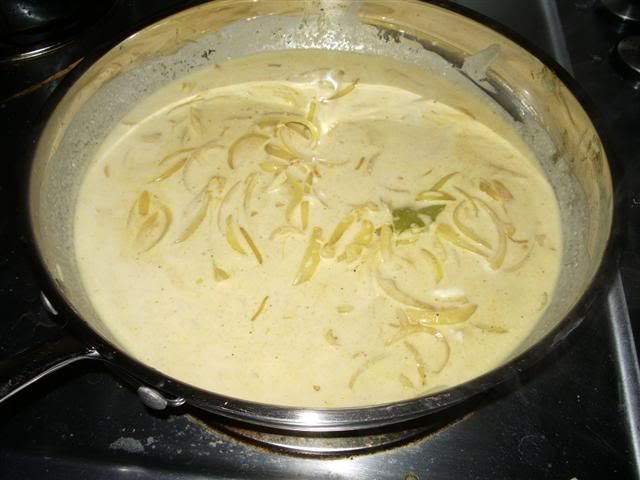 I let that mixture come up to a quick simmer and added the fish, tomatoes and fenugreek leaves.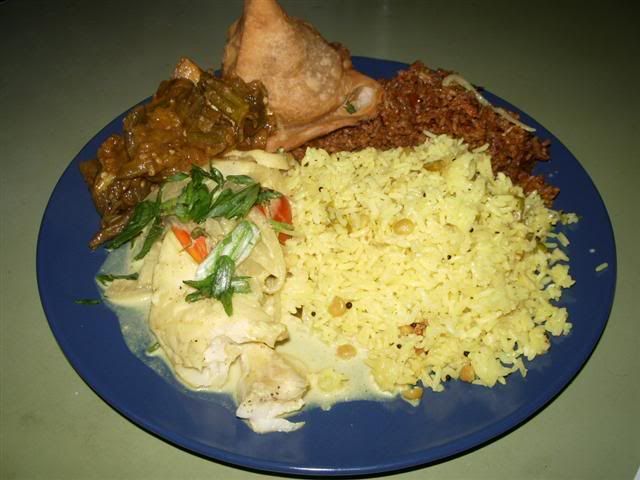 The recipe turned out very well and I liked the simplicity of the recipe. Nothing was overly complicated and anyone could make this. Unfortunately, I didn't taste the sauce before I added the fish so I had to adjust seasonings at the end. It was extremely bland at first so I added some salt. I stirred it around and tasted again and it still didn't taste right so I added more. Too much! Blech... it was waay to salty so I compensated by adding some water and heavy whipping cream I had leftover from Part II of Valentine's Day dinner. Sucky... it still was a little too salty but Justyn said he didn't notice until I had said something. Oh well.. next time!!