For Memorial Day weekend, Justyn, Angel and I decided on a last minute trip up to South Lake Tahoe. It was about a 4 hour drive and we left to go pick up Angel at around 9:00am. We stopped off in Vacaville to rest a bit where I bought a Le Creuset mini casserole pot to hold my nicer salts. We also stopped off in Placerville as well. This was the first long trip where I actually drove. We arrived at our hotel, Ambassador Motor Lodge around 4:00pm. The weather was absolutely perfect, a cool 70 something degrees. Apparently, I thought that we were only staying there overnight. However, Angel booked the room for two nights so we had longer than I expected. The first thing we did was hit up the casinos to gamble a bit. (Angel and I also took a dip in the pool, but I don't remember if we did that before or after gambling) After a while, we got hungry so we went to Harrah's buffet which is known for being pretty good. I don't like buffets, but this one exceeded my expectations. After that we did some more gambling and then went back to the hotel which was within walking distance and crashed.
The next day we shopped around the villa a bit trying to find a good lunch spot. The night before at the tables, the dealer told us to try a place called Fire and Ice which was a Mongolian restaurant. Justyn didn't feel like eating anymore aZn food because we had so much during the work week. So, across the street from the villa shopping center we spotted a small, hole in the wall BBQ joint called Womack's. Sweet! It was just exactly what Justyn was craving. I was hungover from the night before so I wasn't feeling it. Boy was I wrong. This place had a really good review which they proudly posted on their window. We arrived 10 minutes before they were going to open so we sat around and chatted for a while. Eventually the waitress brought our menus and took our drink orders. The window advertised their Hot Spiced Wine and I needed some of that to get over my hangover. We already decided what we would order before we got our menus since they had that posted up as well. I got the baby back ribs with potato salad, Justyn ordered the BBQ pork sammich with potato salad and Angel had the hot links with fries.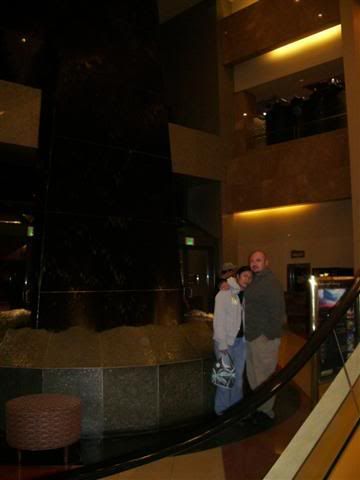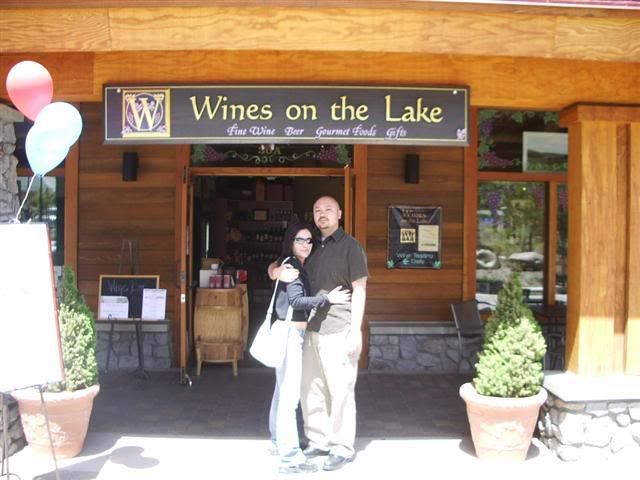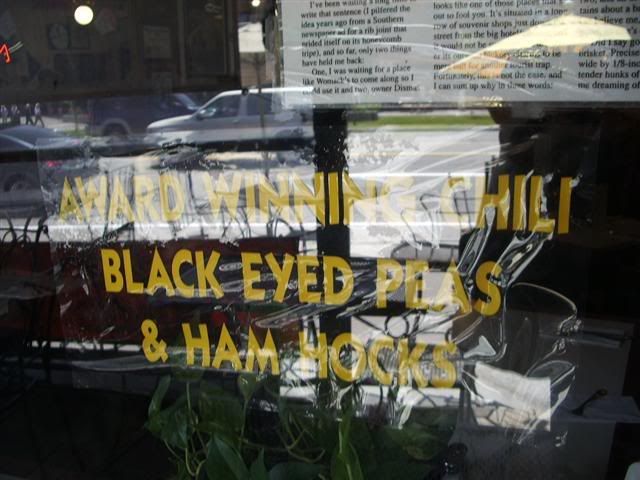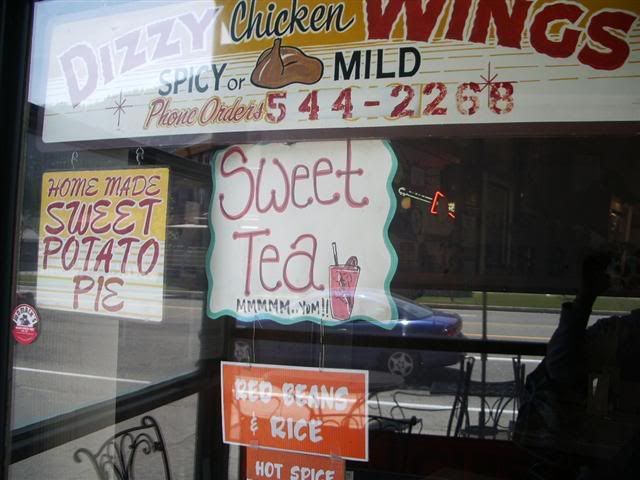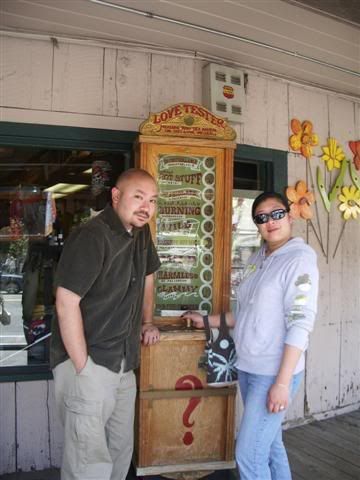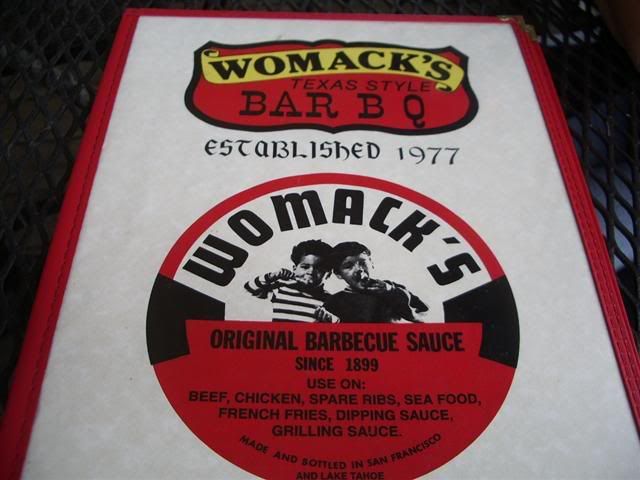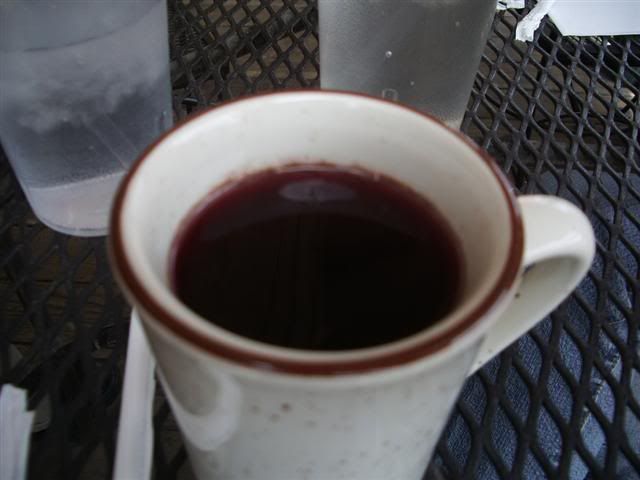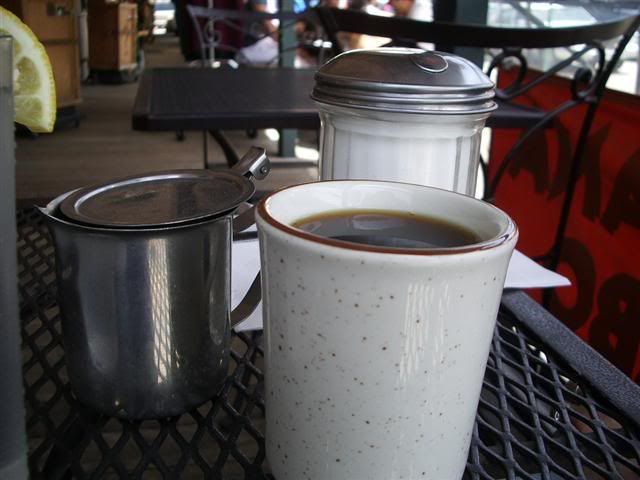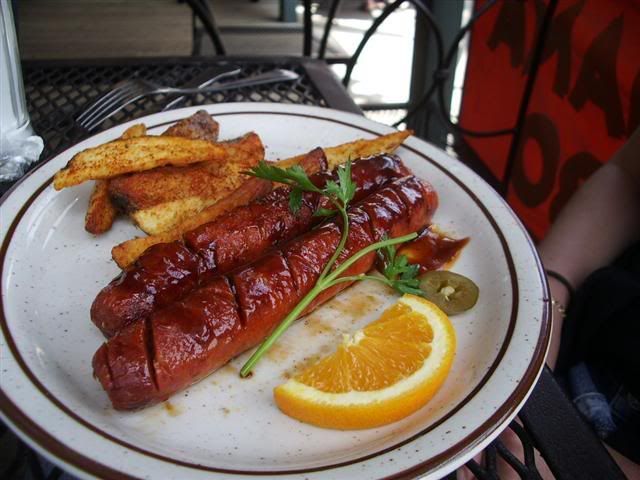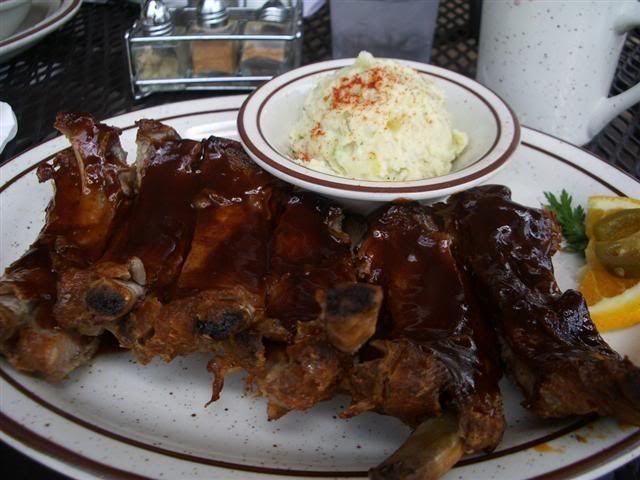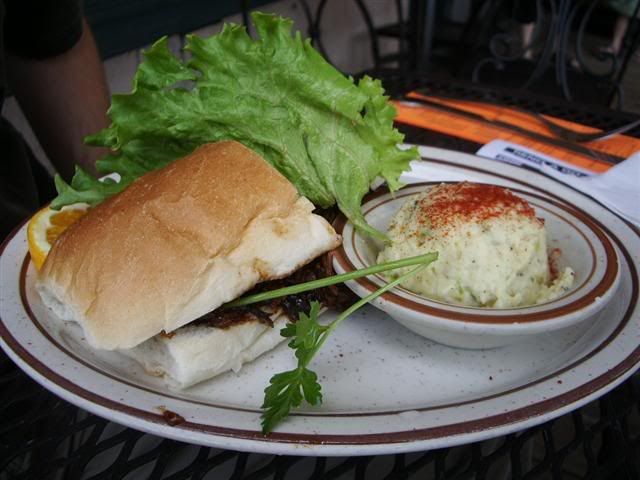 Wow! This was good BBQ, very worthy of the good review from the local newspaper. I shared my ribs with each of them and in turn they gave me a taste of their entrees. Man, just thinking about it makes me drool. The ribs were incredibly tender and well seasoned. The wine was what I needed, sweet but not overly so. The hot link was spicy, but overcooked as Angel ordered it. Justyn's sammich had soft bread and the pork was soft and juicy. I wish we had a Womack's out here. It would definitely be my favorite BBQ spots to hit.
After lunch we went back to the hotel to rest a bit before hitting the tables again. This evening would be the night where I would not remember much. We played Pai Gow for a while before everyone lost all of their monies. After Pai Gow, we played some $10 Black Jack. We met a group of older guys which were a blast to hang out with. I showed them my cards and they helped me win money. It was great! Now here's where things get blurry once again. I had drank a lot at the tables so after we left, we needed to grab some food. The casino we went to was called Mont Bleu and they had a sign that pointed to an Unbuffet. What's that? It's a buffet. Dammit, the last thing I wanted was more buffet food, but whatever. I was drunk and I didn't care anymore. It wasn't bad, but I wouldn't go back.
Apparently after dinner, I was too drunk to be awake any longer. Justyn and Angel took me back to the room so I could pass out. Along the way, we ran into a couple in which the chick was really really drunk. We started doing Borat quotes and then she ran away with her boyfriend quickly behind her. Eventually we got back to the hotel and I went to bed. They told me that I said "You guys aren't going to leave me are you?". They both said "nooooo..", but did anyway. I was gone after that. They stayed up until 2:00am.
The morning after was not a pleasant one. My head hurt, my stomach was churning so I chugged two bottles of water with some Advil and a beer. I still wasn't feeling good and wouldn't until right now as I'm typing this. We packed up, watched an episode of Monk and were on our way home. Justyn wanted to try Mel's in Placerville for lunch so we stopped after about an hour of driving. I was passed out most of the way and my hangover wasn't getting any better.
For lunch I had a Melburger with cheese, fries and a New Castle. Justyn ordered a reuben sammich and Angel got a French dip. Everything was really good. I might even give the burger a title of Favorite Hamburger of All Time. This burger was just what the doctor ordered. I thorougly enjoyed it all despite its size.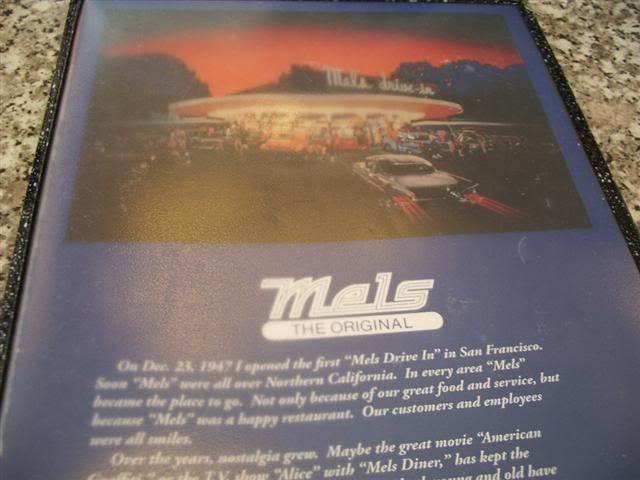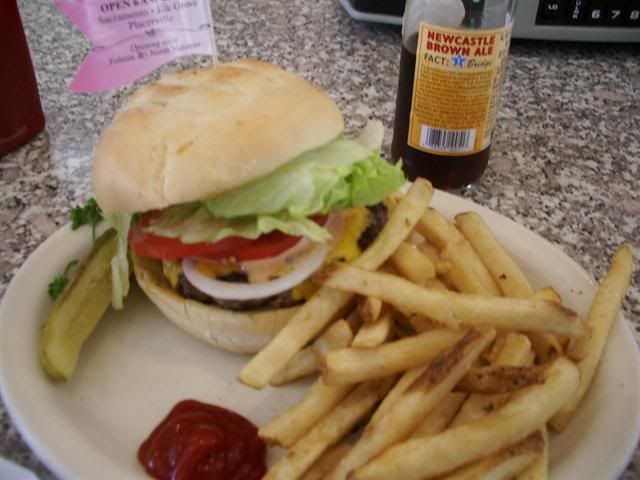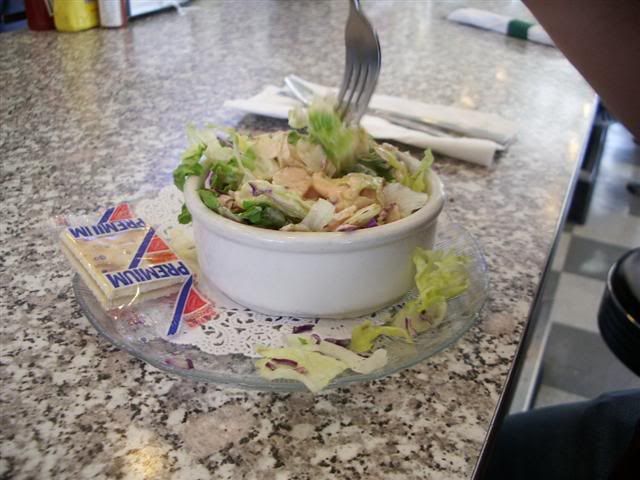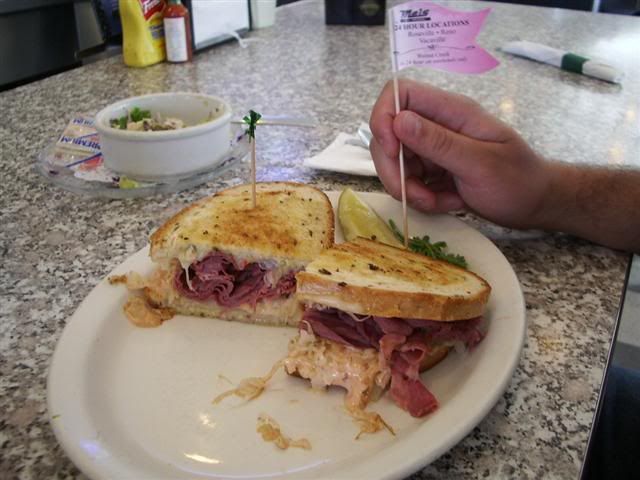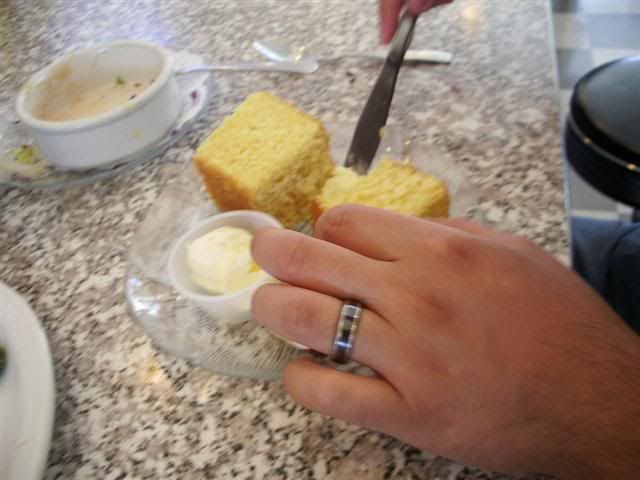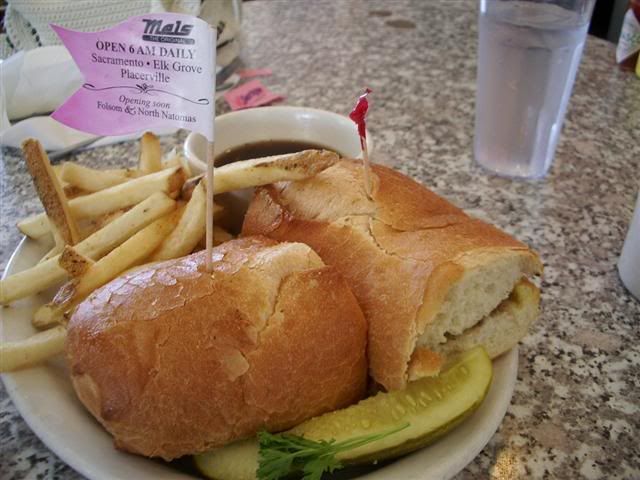 Alright, so now I'm too tired to revise and rewrite this blog. I'm going to watch Pimp My Ride and enjoy the rest of the evening. Happy Birthday Angel, and thanks for putting this trip together. I had an awesome time!