Monday night was President's Day and in an effort to not waste the entire weekend doing nothing, we went out for dinner and Valley Faire to buy some stuff from Williams Sonoma. Justyn wanted to try out an Indonesian restaurant after watching No Reservations, but he also had heard some good things from jatbar.com about Blue Mango which is a Thai restaurant. Since it was near the mall, we decided to try there.
Upon arriving at the restaurant there was a bright neon sign that you can't really miss.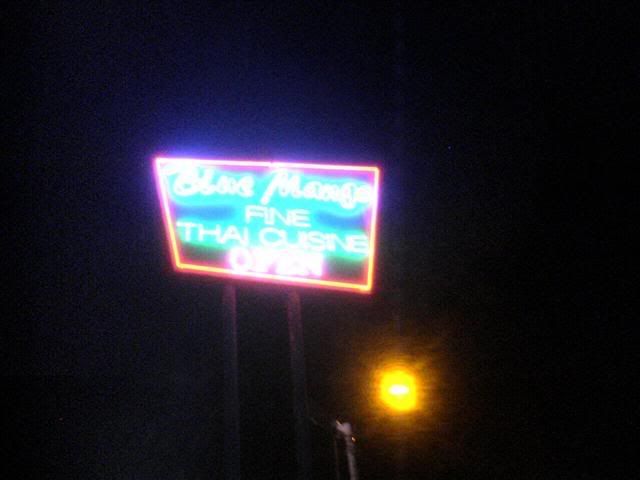 We got to the restaurant somewhat late, around 7:00pm. I expected the restaurant to be a bit more packed than it was. Other than the two of us, there were two other couples already seated. This made me a little wary, but we sat down anyway. I noticed they received an award from San Jose Mercury & some other magazine for best Thai food for three years. I thought, "what the hell.. it can't be that bad."
The waitress came by to take our drink orders and I ordered the Spiked Thai Iced Tea which I've never seen or tasted before. I asked the waitress what the ingrediants were and she said "hon". What the hell is that, I wondered. Oh well... as long as it had some kind of libation in it hee hee.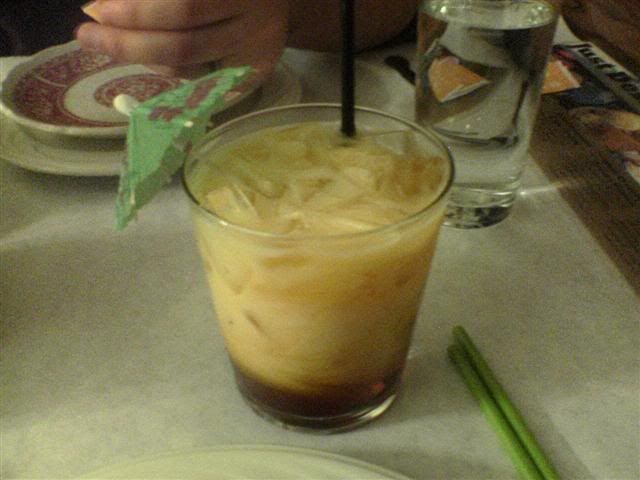 It tasted just like Thai Iced Tea except without the overpowering sweetness. In fact it was slightly bitter which I enjoyed. By the time the drink arrived, which took some time, we were ready to order. We went with the one of the Bangkok Platter which includes appetizer (egg roll, fried shrimp toast, fried wontons and chicken satay), two entrees (Masamun beef curry and pad thai), rice & dessert (Mango Samosa).
Here's what irritated me a bit. Despite the lack of customers, it took almost 20 minutes for us to get just the appetizers. Well... let's just say the appetizers weren't all they should've been. The chicken satay skewers were really dry. Granted, they're made out of chicken breast, but still. The fried wontons were... well... plain. Nothing really spectacular.. nor did I expect anything either. Next were the veggie rolls. Myeh... I dunno. It was OK. Then came the toast. I liked it. It was a first timer for me and I enjoyed it. It was a bit on the greasy side, but compared to all of the other appetizers, it wasn't bad.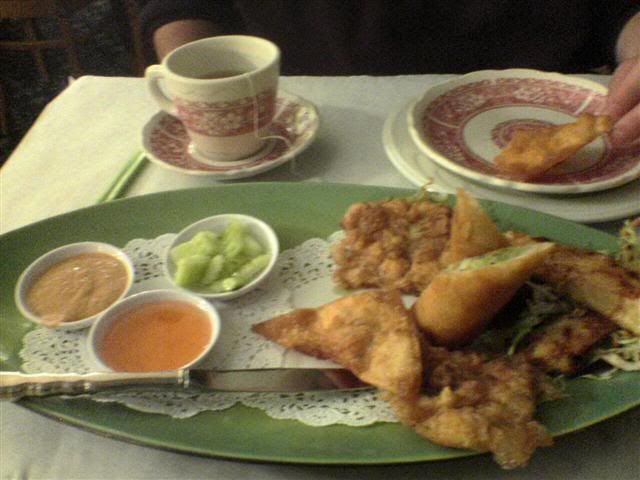 Another ten minutes went by and our entrees arrived. The curry was really packed with good flavor and the meat was tender. Justyn and I both liked this. On the other hand, the pad thai was too strongly flavored. I couldn't tell if they used real tamarind or not, but perhaps they used too much. Justyn is used to strong flavors so he said it was really good. I've had better at places like Thai Basil.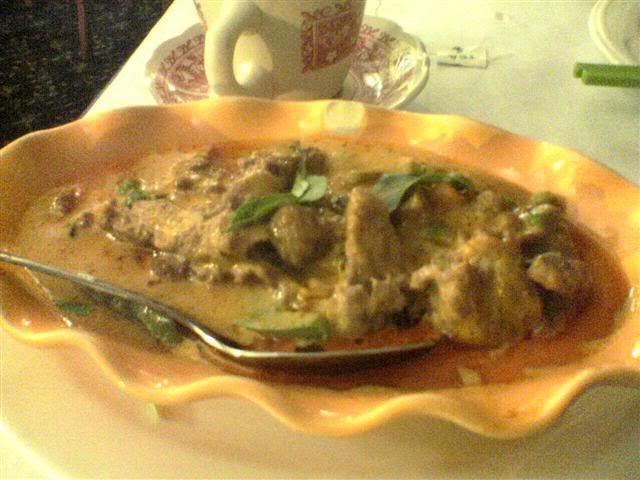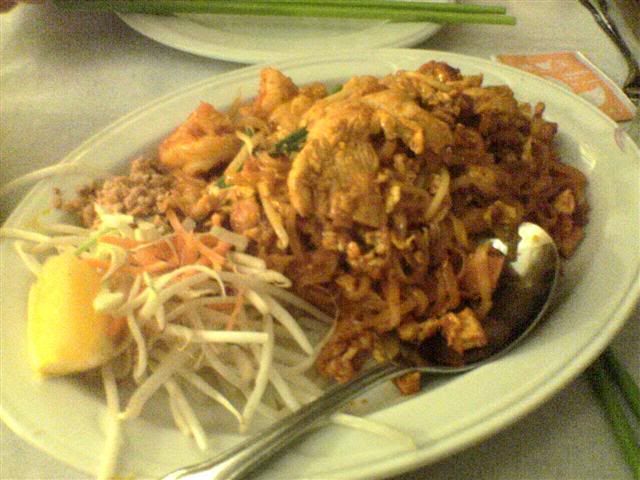 We finished up our entrees and dessert came shortly (shockingly the only thing that came out fairly quickly). Wow, dessert was good. If you've been a loyal reader, you'll know that I don't like sweet stuff. I don't go out of my way to get ice cream cuz I simply enjoy savory snacks better. BUT this dessert was a winner. It came with four mango samosas and a healthy scoop of coconut icecream drizzled with chocolate syrup. The samosas were well balanced with sweet and savory. Maybe that's why I enjoyed them so much. The ice cream wasn't overly sweet which helped too. Mmm... I'm craving some of that dessert as I type this.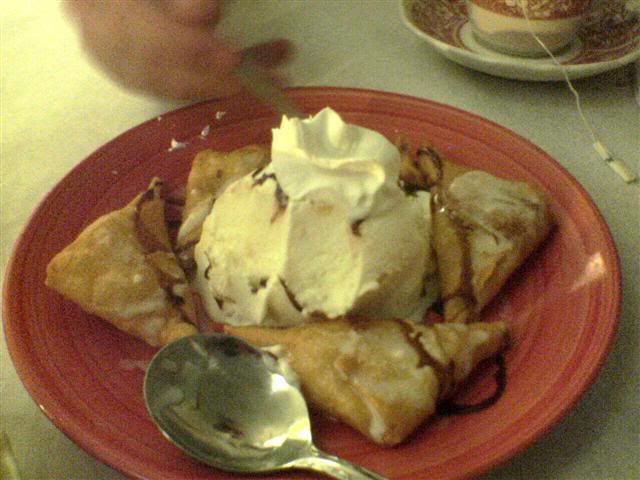 So... what do I give this place? 7.5 out of 10. I gave the place an extra half point because the dessert was so yummy. Otherwise, they could improve in service a lot. Anyway, I'd go again... I just have to make sure I have a lot more time. By the time we got to the mall, it was almost 8:45pm.
Blue Mango
4996 Stevens Creek Blvd.
San Jose, CA
(408) 248-7191
Incidentally, I had a Williams Sonoma gift card which a friend had gotten me for my birthday last month. I also had a rebate card from Cingular for $30 so I basically had $80 to spend there. After walking around the store and not actually looking for anything, I decided to get four ramekins and a new set of metal measuring spoons (which I hope to use toward gaining more baking experience).