On Valentine's Day, we went to Downtown Mountain View for lunch. More specifically, we went to Cafe Baklava. We had walked by the place a couple times after eating at other restaurants near by and noticed how cute it looked. The restaurant itself was quite small with about ten tables total. About five or six tables were located in the back area which is where we were seated. Interestingly enough, the kitchen was located near the front of the restaurant in plain view. The chef happily acknowledged us as we were one of the first customers in for the lunch hour.
Our waiter came by to ask what we wanted to drink. I dared to drink on a work day during lunch, so I got a glass of Chianti. Justyn settled for a glass of water since he had to drive. A bit later we got the house "bread and butter" which consisted of a sun dried tomato mixture and flat bread. The photo below just doesn't this any justice. It was delicious... more than good. The quality of ingrediants really showed in this dish and we devoured it all. I later asked the chef what was in it. It's basically just sun dried tomato, basil, garlic, and olive oil blended together. That's it! I thought it had a touch of anchovy or sardine in it, since it had a slight fishy flavor.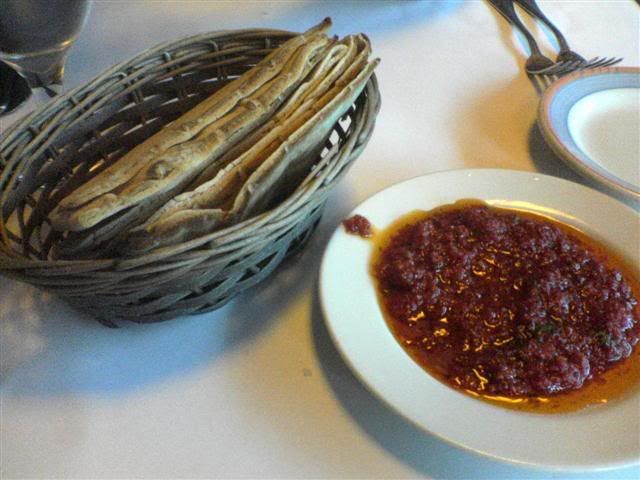 The waiter came by with my glass of wine and asked if we were ready to order. I had a bit of a hard time trying to decide between dishes, but I settled on the lunch special which the waiter described as "ground lamb on a couple pieces of bread topped with tartar sauce and served with fries or salad". Justyn got the kabobs with grilled veggies and rice. My dish sounds elegant and weird right? Not so. It actually turned out to be a lamb burger with tartar sauce and fries. BUT, it was good. really good. The burger was perfectly seasoned with exception of the tartar sauce. The pickles or something in the sauce was really salty. Justyn's entree was really good. The ground lamb kabobs had a lot of powerful flavors in it... one of which I picked out to be fennel seed. The grilled veggies which sounded plain to me, were extremely and suprisingly flavorful. I wished I had gotten a kabob plate instead. Oh well, I enjoyed my burger just as well.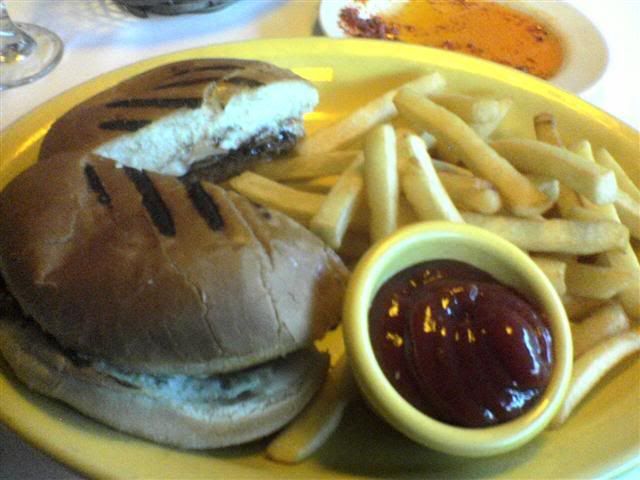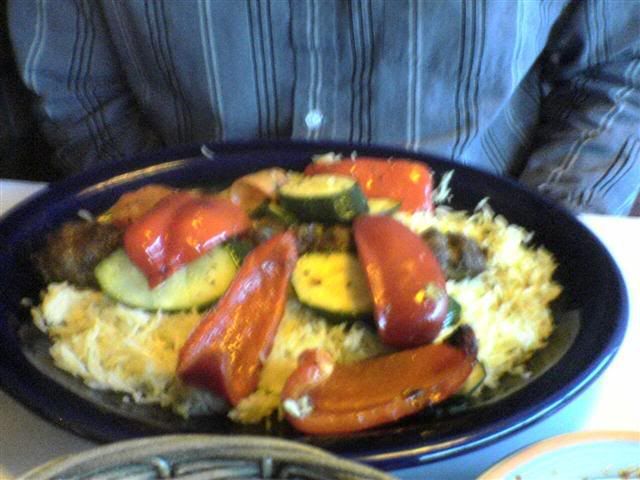 Since lunch went so well, we were half debating on getting dessert, but we were crunched for time. Once we paid the bill and walked by the kitchen, I decided to make small talk with the chef since I wanted to watch him cook. He was making risotto from scratch which I was impressed by. I stupidly told him that risotto takes a lot of time and he just shook his head.
I would definitely make a second and third trip back to Cafe Baklava without blinking an eye. I love the open kitchen and being able to talk to the down to earth chef. I enjoyed the food and service a lot. I give this place a 9 of 10 which would make it the highest rated restaurant so far that I've done a review on.. I think!
Cafe Baklava
341 Castro St.
Mountain View, CA
(650) 969-3835