I'm part of an online motorcycle community called BARF (bayarearidersforum.com) and there are some avid foodies on there that like to try new restaurants. Coincidentally, we also work near each other in the Mountain View/Sunnyvale area. I haven't tried Sue's Indian Restaurant so I posted up a lunch meet for Wednesday. I did some research on yahoo.com and yelp.com for reviews and the restaurant seemed to meet the approval of fellow foodies.
I had a group of 12 that wanted in on lunch so I called about half an hour ahead and the host was able to accomodate. We arrived at the restaurant around 11:30am and we were the second group to be seated. That had me a little worried even if it was early. If it was a good restaurant, it should have been a little busier. Oh well, let's give the food a try. Everyone was sat down and remained seated until a couple of us got up to get food. I was slightly put off by the lack of selection. Their buffet was small compared to other Indian restaurants. I don't even remember everything I put on my plate but here's my guess. Chicken biriyani (sp?), lamb curry, shrimp curry, green beans and the fried veggie stuff. Everything except for the green beans and veggies had a nice spicy bite to them which was a nice surprise. It was packed full of different flavors and textures. Oh and the best part! The naan. Most Indian buffets put their naan under the heat lamp which makes it limp and yucky-like. This place brings their naan out to the table. Fresh. Hot. Crispy!
As we sat and ate and ate and ate and chatted, someone pointed out that the paintings on that decorated the interior of the restaurant were all done by Sue, the owner. Cool! The owner actually changed the name of the restaurant to Godavari and proudly displayed that fact on the outside of the restaurant. Normally when a restaurant changes their name, it signifies change of ownership.
Eventually everyone was full. It turned out to be about $16 per person drink and tip included. Not bad for unlimited food and drink. Overall the restaurant was very accomodating for such a small space and the food was better than I expected.
Now pictures for your enjoyment!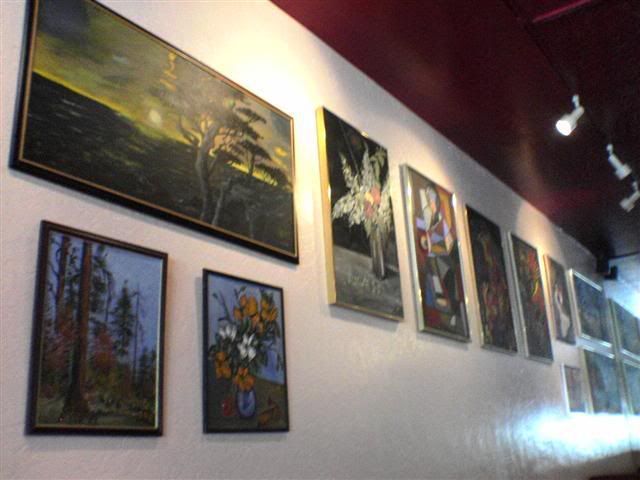 Godavari Indian Restaurant (formerly Sue's)