This morning I ran a little late to work, but only by 5 minutes. I got a call from my manager to run through some things and make sure that the new hire knew his stuff before I left. By the way, I'm leaving tomorrow and flying back to the bay area! Yay! Hopefully it's not going to rain too hard on my drive back to Manchester Airport. I heard it's going to be heavy thunderstorms all day tomorrow and I really really hope my flight doesn't get cancelled or delayed. The only thing I want to do at this point is go home to Justyn and our bed. Don't get me wrong though, I will definitely miss having maids pick up after my sloppy self, and I will miss the great people I met at Juniper Westford. Though, I still want to go home. Home is where the heart is, so they say right?

Onto the food.. I find myself going back for seconds at the places I really liked out here. Bamboo and Thai Jasmine. I went to Thai Jasmine yesterday for lunch and had their hot and sour noodle soup. That was the perfect meal for the mood I was in. I guess I was feeling homesick and wanted something that was similar to what I could get in San Jose.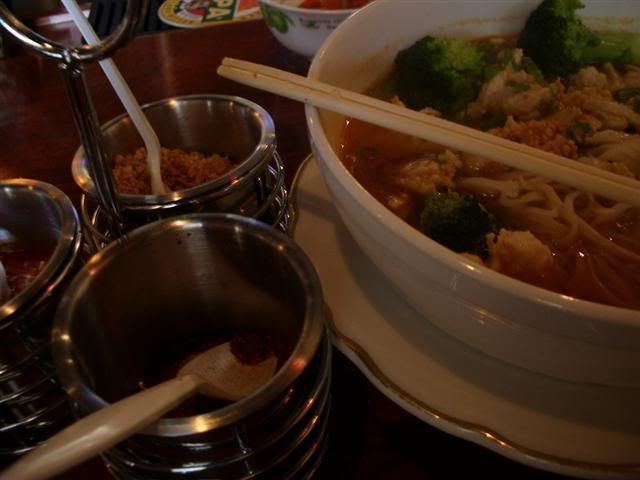 Today for lunch, I went to a sandwich shop called D'Angelos. Ahhh crap, now that I think about it, I forgot to snap a picture of it. Oh well, it wasn't anything special.. it was tasty, but you're not missing anything without the picture. I had something similar to a cheesesteak with a bag of Harvest Cheddar Sun Chips with a Diet Coke. The rest of the day dragged by.. there wasn't much work for me to go through and training was nearing its end. The new hire was doing OK by himself and he would come to my cube if he had any questions. I figure I did a good job training him because my manager was impressed by his knowledge of the database. Go me!
I left work a little early since it was so slow and decided to go to Bamboo. (I know… again? Yes.) This time I ordered the Singapore fried rice noodle and a side order of vegetable tempura. I'm currently eating it right now and I love it. Since I got takeout, the tempura wasn't as fresh, but what're you going to do right? My expectations for Bamboo were exceeded and I'm glad it's in the same parking lot as my hotel. I probably wouldn't be a happy camper if it weren't for Bamboo. On the way home from work, I also picked up a bottle of Twin Fin which is a Californian Shiraz. It's a tiny tiny bit tart, but has good body to it still. Hehe, I sound like I really know what I'm talking about huh? Go ahead, roll your eyes, it's OK.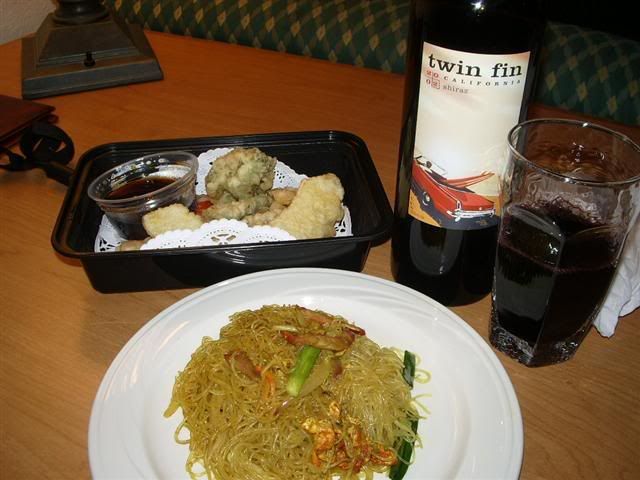 So tonight, the plan is to go to Kimball's which is an ice cream parlor. The lady that I mentioned in my previous post boasts that it's the best ice cream I'll ever have. I've gotta give it a try before I leave right? Hmm, well, I can't seem to find it on yahoo.com! Let's try google.com.. Ah hah! Found it. I guess I will have a chance to go afterall. I'll post about it when I come back.
I'm back! Wow, I'm really glad I didn't miss my opportunity to make it up the Kimball Farm. I would seriously regret not going if I had seen pictures of the place. It was almost a little too touristy, but since woodland surrounded it, it seemed quaint too. Kimball Farm also has a mini golf and serious golf range. The place was bigger than I thought. I figured since it was solely an icecream place, that it was just going to be a parlor. I made a left turn into the parking lot, parked my car and got out. The first thing I did was take pictures of the sign for the golf range and a couple other landmarks. One of the pictures below features a bathroom. You wouldn't be able to tell otherwise if it weren't for the Restroom sign. After I was done taking some pictures, I walked to the part where they sold icecream. On the way there, a little boy with his mother played peek-a-boo with me. That was cute. Onto the icecream, I was a little scared that they wouldn't take credit card, but they did. I asked the girl at the counter what the smallest size order of icecream was and she held up a decent sized cup. I asked her how much icecream it held, and she said one scoop to fill it to the top and one more on top! There was no way I could eat that much coffee icecream in one sitting, so I asked her to cut the order in half. She said she'd scoop me a kiddie size. Alright, I'm game. When she brought my icecream to the ordering window, it was huge!! I should've just asked her for half of that. Oh well, I paid for my icecream and took a picture of it. I also did a little more walking around. There was an outdoor patio that had a barnyard type dealio next to it. Inside the fenced area contained four goats and a bunch of cocks. OK OK, go ahead, laugh it up! I said cocks. The chicken kind dammit. I snapped a couple pictures of them and one of the goats kept following me around trying to get a bite of the icecream. Oh yeah, the icecream. I almost forgot. It was really rich and creamy and even had tiny microscopic granules of coffee grounds in it. It made the texture of the icecream a little gritty, but at least I knew they were using real coffee and not food coloring and artificial coffee flavoring. You could really tell the icecream was homemade which is a good.

That pretty much sums up my day and trip. This time tomorrow, I'll be on a plane to Chicago on my way back home! YAY!
Alright, quick post before I leave this post. The morning after I posted this, I went to Bamboo again haha! This time for a quick lunch before heading into work for a couple hours and then into the Manchester airport. I had Cashew chicken and a cocktail since I was a bit hungover... does that suprise you?