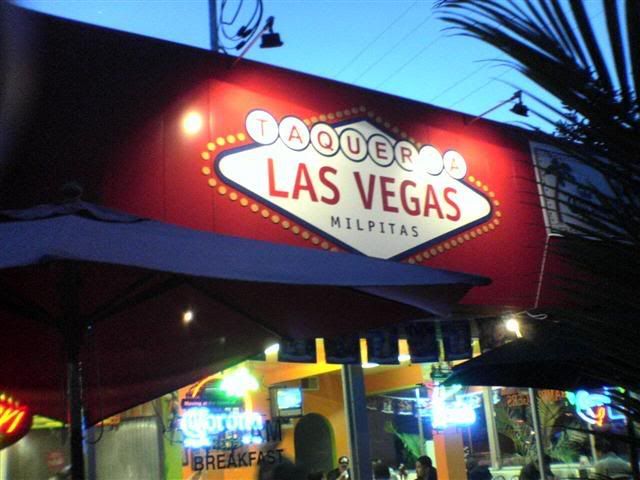 Early last week I had planned a meet with some friends from a message board called RBP. I've been on this message board for quite a while. Pretty much ever since I've been with Justyn. So that's like 6 years! This message board mostly consists of people who live in San Diego and they've been fortunate to have places that serve something called carne asada fries. They always post about it and I've been wanting to try it for some time. One of my friends (Alex) found a place in Milpitas that serves it so I jumped at the opportunity to experience my first carne asada fries. I arranged for the RBPers from the bay area to come out and try them with Justyn and I on Friday evening.
The place is really small, and we almost had to go eat outside in the cold. Luckily, one of the patrons was nice enough to offer his table where he was waiting for his order. We pushed two tables together to fit all of us (Kris, Justyn, me, Alex, Derek, T & Jan). Everyone except for Justyn ordered carne asada fries. Justyn got chicken tacos. I guess he figured that I wouldn't be able to finish my food so he could try the fries.

I would describe carne asada fries as the perfect drunk food. You want grease, carbs to soak up the booze, and something savory? Get this stuff... I was only able to finish half of the fries since the portions were so big, but it was really yummy. Probably not the healthiest choice for dinner, but whatever.
Taqueria Las Vegas
1417 N Milpitas Blvd
Milpitas, CA 95035