Well well.. another review BUT, not really. All my reviews are basically restaurant based. What's this? A market? Yeah... Actually this was one of Justyn's finds. He found this on a website that lists all of the restaurants in and around Downtown Mountain View. It was the only place listed under the Persian category. So we took El Camino to Castro Street, but it wasn't part of the Downtown area. In fact, the place seemed to be located in the ghetto part of Mountain View.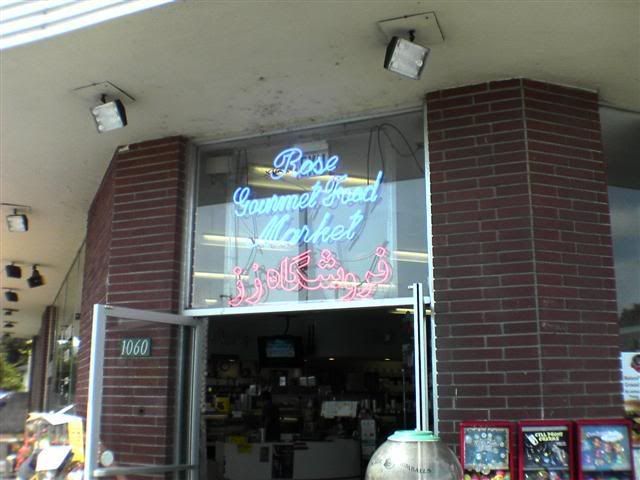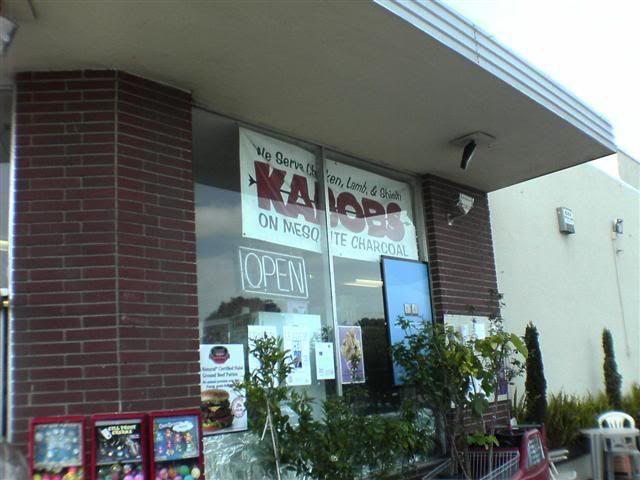 When we arrived, we parked in a parking lot where a dry cleaners and some other shop is located. We walked into the market and found it to be just a seemingly regular old ethnic store. The only thing that was different was the prepared foods section. They had a container of rice and something that looked like lamb curry out. Something like what you find at the deli at Albertson's or Safeway. A lot of the other containers were covered so I couldn't tell what other offerings they had. Justyn picked up a menu from one of the checkout stands and I decided to order a Kubideh kebob which is minced lamb with spices I couldn't list. Justyn ordered rice (for me), and the spicy chicken with a grilled onion. I know.... doesn't sound lavish or interesting at all right? I picked up a couple sodas from the back of the store. While I was waiting for Justyn to finish ordering, I noticed an ice cream freezer with rosewater ice cream.. Cool... maybe I'll have that for dessert just to try it out. I have never had rosewater icecream before. I like the smell of roses and I like water. Let's see how it goes.
So, Justyn finishes ordering our lunch and the service is immediately teh suck. I mean what do you expect? It's a grocery store. Anyway, we paid for lunch and the grocery guy gave us a yellow ticket. We gave that to the person behind the deli counter which scooped some basmati rice and rice colored with saffron into a styrofoam container. (At least I think it was saffron rice)
We walked outside to some patio chairs and tables with umbrellas. There were a couple orders ahead of us, but our order was soon called over a loudspeaker. It's almost like you're waiting for your prescription at the doctor's office. Instead of picking up your food from the deli, it was around back of the building. Luckily, Justyn had already done a little research before we arrived, or else we would've looked like dumb tourists asking the checkout guy where we should get our food.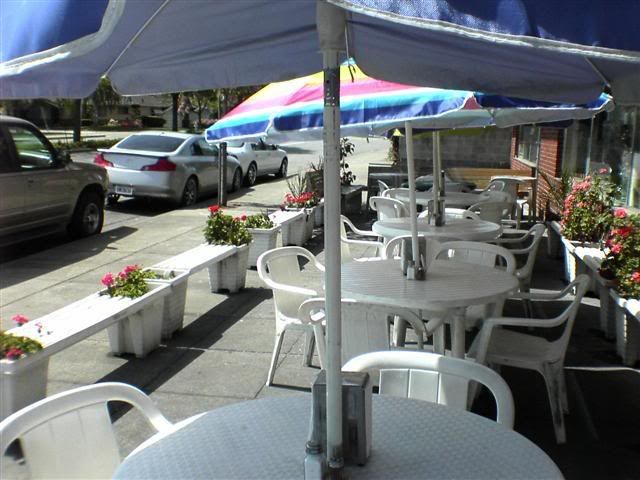 When Justyn brought lunch to our table, I was immediately impressed. Wow! It looked amazing!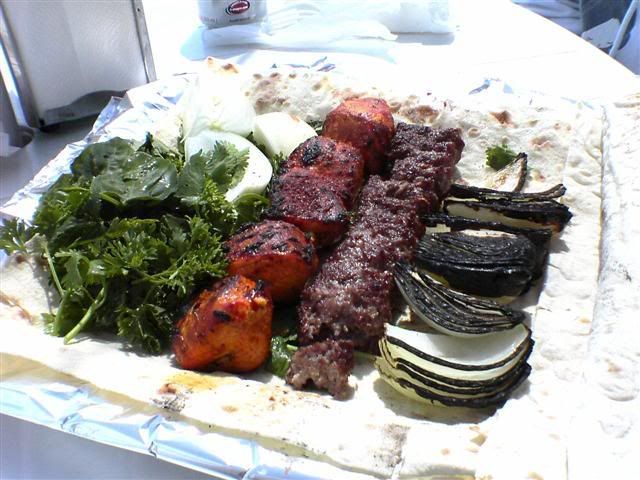 Was it good? Hell yeah it was. My Kubideh was juicy, tender, flavor packed, and most of all.. it all tasted authentic. Everything came with a sort of flatbread/tortilla rectangle to hold the food and also cover it. It also came with raw onion, cilantro, chervil (I think), basil and mint. It was all so colorful and eye catching. Something you'd expect out of a restaurant.. except better. Justyn and I split the meat and rice and dove in. I used the "tortilla" to wrap everything (the meat, greens, onion, and a sprinkle of the red dusty stuff - I dunno what it is but it tastes somewhat lemony). Mmm...
After we finished eating, Justyn bought me the rose icecream. My first spoonful was not what I was expecting. The rose flavor was very prominent.. I expected a more bland flavor. But, after a few spoonfuls, it tasted light and refreshing. I started to like it. Of course, after a meal like we had, I couldn't eat much of it.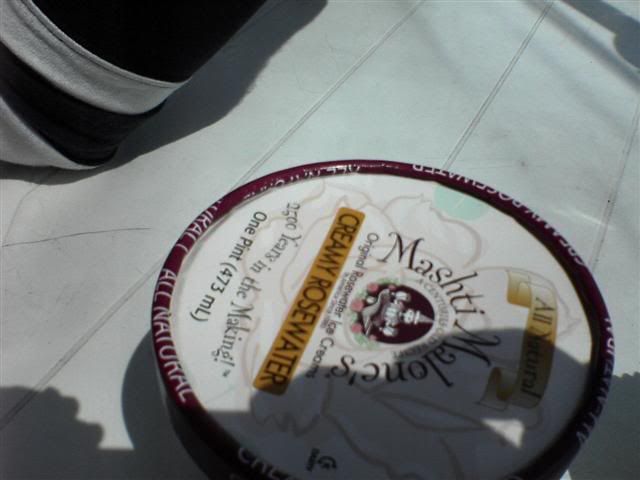 If you want something authetic tasting and bad service. Go to Rose Market. It's super tasty and casual. On such a nice day, I'm glad we had lunch there.

Rose Gourmet Food Market
1060 Castro St.
Mountain View, CA 94040