As most of you know, I've become a full fledged foodie. When I have free time at work, I browse foodie blogs and make myself hungry all the damn time. Tastespotting has been both kind and cruel to me taunting with all of it's glorious food porn. One particular dish caught my eye on Tuesday. Stewed Lion's Head? What the.... Hey, it looked good. It's basically a Shanghai meatball and veggies soup/stew. I guess they call it Lion's Head because the meatballs are supposed to be hueg like a lion's head. I don't know...
Anyway, this recipe came courtesy of Teczape's blog (teczcape.blogspot.com). She has a lot of very interesting recipes that I will be trying out in the near future (especially her Tom Yum fried rice). So stumbling upon her blog, I saw this interesting recipe and decided to try it out for a healthy dinner. After Lake Berryessa and all the boozing we did, I think Justyn and I needed something healthy.
Here are the list of items you will need. I used Teczape's recipe, but tweaked mine as I saw fit. It's a great recipe, don't get me wrong.. I just thought it needed some adjustments.
Ingrediants:

1 lb. of ground pork
1/2 lb. of baby bok choi (I couldn't find the Napa cabbage at the store until after I had already grabbed the baby bok choi, stupid me) - This should be cut into 3 pieces.
8 caps of fresh shiitake mushrooms cleaned with a damp towel and sliced
6 pieces of sliced ginger and 1 tblsp of grated ginger (use your microplane)
3 stalks of scallion sliced thinly
1 tbsp. of tiny dried shrimpies soaked in water and drained
2 tblsp. of canola oil
Teczape's recipe calls for vermicelli, but I made some rice instead.
2 tblsp. of soy sauce for pork mixture & 1 tblsp. of soy sauce for thickening mixture
1/2 tblsp. of corn starch or an egg for pork mixture (I recommend using egg for the binder since the corn starch didn't work very well) & a pile of corn starch to dredge the meatballs
1/2 tsp. of sesame seed oil
salt & pepper to taste
1 can of chicken broth (I used beef broth which I'll explain later)
First, I mixed the meatball mixture by combining the pork, 1 stalk of chopped scallion, sesame seed oil, soy sauce, cornstarch and grated ginger. I then formed a little bigger than golf ball sized balls. Then I dredged them in the pile of cornstarch for searing.
Get that nice brown color my little pretties
The hardest part about searing the meatballs was flipping them over. As I mentioned above, you should use an egg which would probably be a better binder so they don't come apart. Oh yeah, and use a smaller pot. Mine was too deep to be able to flip the meatballs over.
Here are the rest of the ingrediants waiting to join in on the partay.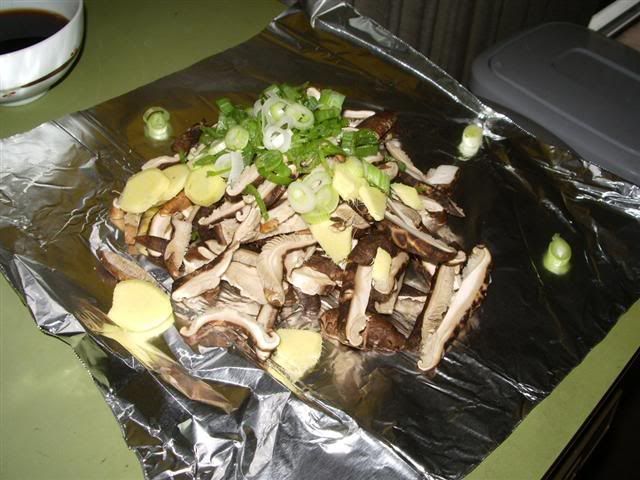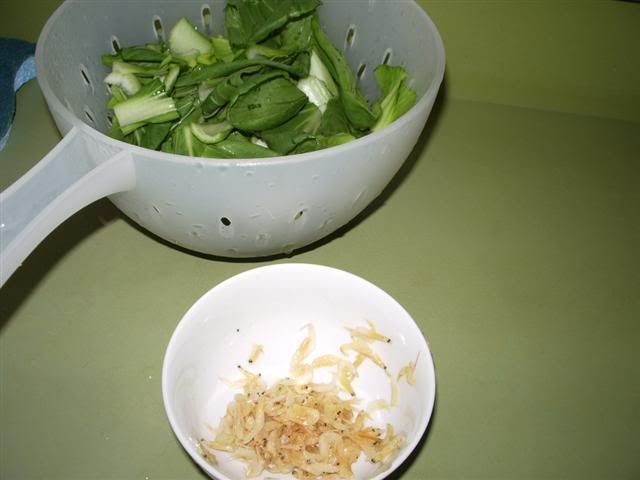 After the meatballs had browned on both sides, I removed them from the pot and set them aside. Next go in the veggies and shrimps. Saute until the veggies wilt just a bit.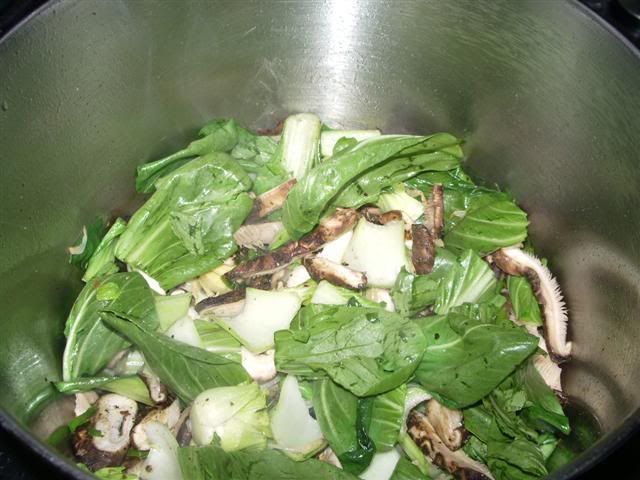 Here's where the recipe stumped me. In Teczape's recipe, there's liquid in her stew. I knew the veggies wouldn't give me the amount of liquid I needed so thankfully I had an extra can of beef broth lying around. Idiot me, dumped out the chicken stock after I made the thickening sauce for this dish. I also added about a cup of water.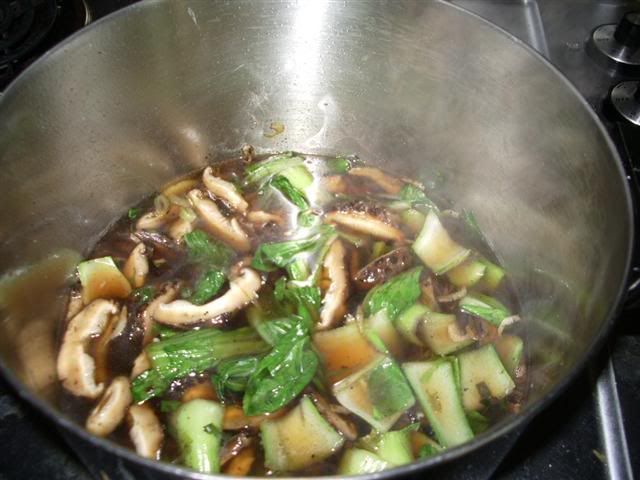 This should come to a quick simmer before adding the meatballs back in.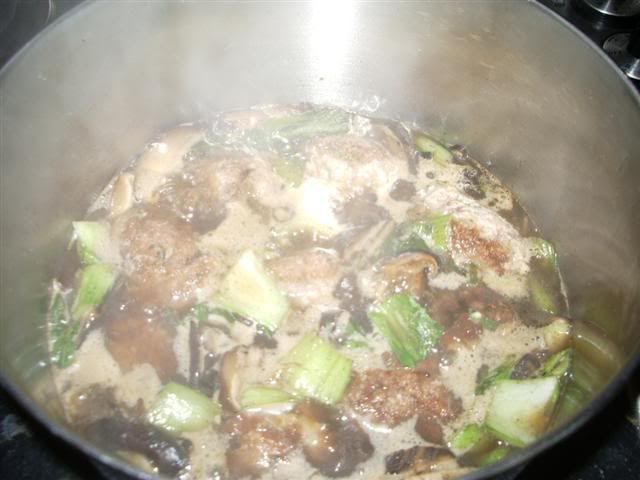 I then added the 2 tbsp each of chicken broth and soy sauce with 1 tbsp of cornstarch. Then it goes 18 minutes on simmer.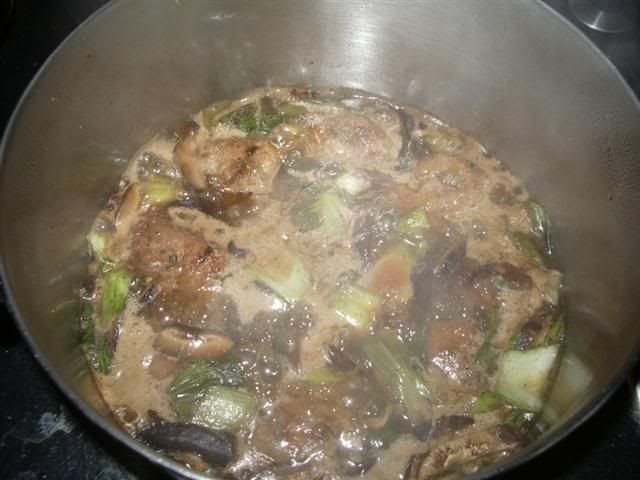 I'm not sure if you can tell by the picture, but the greens somewhat turned into a not pleasant green color. I recommend you add them half way through the simmer process to prevent this from happening.
Serving time! I added some fried red onion on the top for garnish and had the rice to soak up all the good stewing liquid.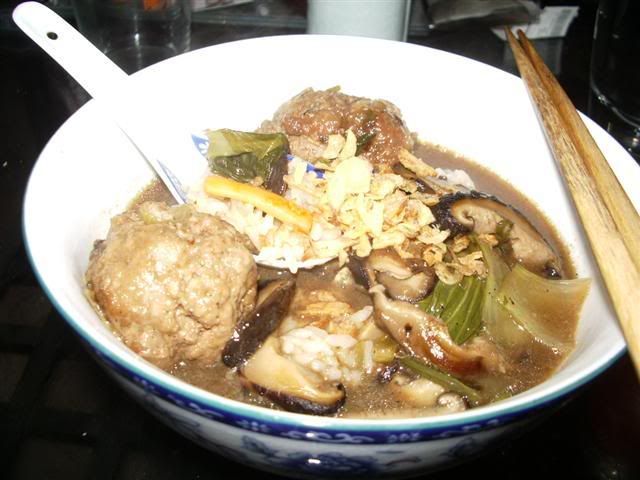 I have to give Tezcape some major props for posting this on her blog. This dish had tons of great flavor and it didn't feel like I was eating unhealthy. I'll definitely give this recipe another try with more tweaking. Thanks Tezcape!