My sister's birthday is on the 6th, so we wanted to take her out to a restaurant for lunch. So many to choose from... but which one?? I went on yelp.com to help me make a decision. At first I thought Manresa would be good, but then I realized how expensive it was. I had heard good things about Vung Tau Restaurant so I made reservations there.

Sunday morning I wake up totally hungover from the night before (no suprise there!), but I make myself get ready despite wanting to just stay in for the entire day. How can I pass up what would be some great food? So, we printed out directions and went to Bed Bath & Beyond to get my sister a cheese board. She had invited me over one day for cheese & meats snack. Unfortunately she didn't have a cheese board or any means of cutting the various cheeses & meats. I thought this would be the perfect present for her. We also ran to Diddams to get a nice bag & tissue paper (best and easiest way to wrap presents if you're in a hurry).

With the present in hand, we drove to Vung Tau per the directions on mapquest.com. Eventually we would have to be on Santa Clara St. in Downtown San Jose. For some reason, the directions told us to exit on San Jose Intl Aiport/Mineta. Uhm... that was wrong. We ended up having to get back on 280 to 87. We drove all the way to 12th St. from Santa Clara St and eventually made it to the restaurant. My family & Bryant were already seated.

We decided to order family style, getting enough rice for everyone, 4 dishes & a soup. Here's what we ordered:

Appetizers: Banh Khot (Crisp rice flour cakes w/ shrimp & scallions, Served with mixed greens) & Tom Qua Tien (Crisp shrimp imperial rolls) - Verdict: I liked the shrimp rolls over the flour cakes. The flour cakes were a little on the bland side, but I later found out it was because I didn't add enough sauce. Really really good though.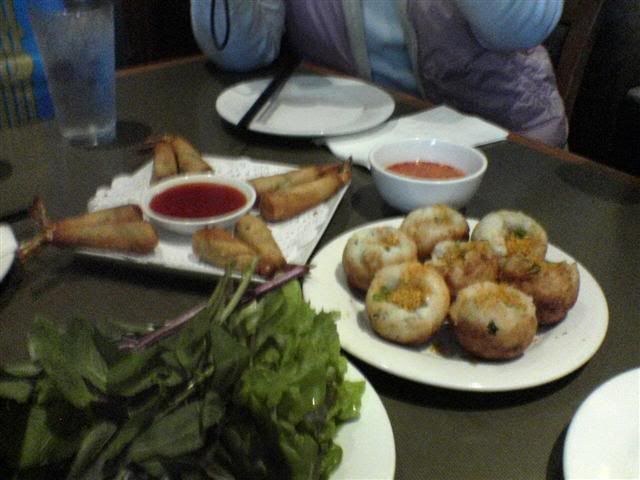 Soup: Canh Chua Tom Thai / Do Bien (Thai style soup w/ shrimp, mushrooms, lemongrass, tomatoes, basil & seafood) - Verdict: Packed full of flavor! You can really taste the lemongrass and kaffir lime leaves in this. It was so good that as I finished my bowl of soup, I added some rice to get every last drop.
Dishes: Dia Suon Non Nuong (Grilled baby pork ribs marinated w/ lemongrass) Verdict: The meat was a little on the tough side, but the flavors more than made up for it.
Ca Tuyet Chien Thai Lan (Crisp seabass Thai style w/ chili, onions & Thai sauce) Verdict: Mmmmmmmmmmm, just thinking about it makes my stomach growl.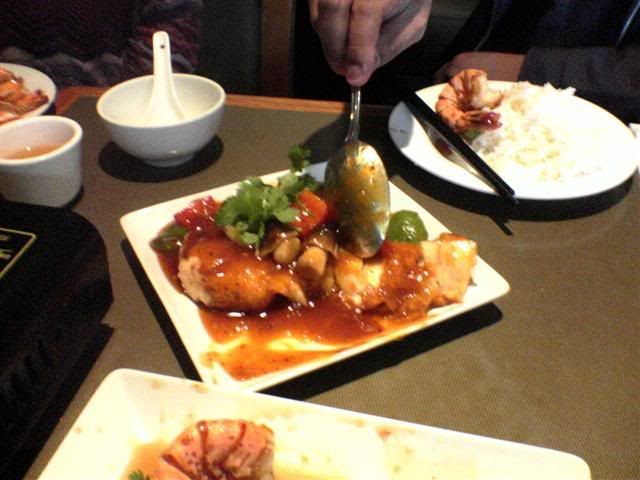 Bo Xao Can Ca (Beef wok tossed w/ tomatoes, celery, onions in an oyster & tomato sauce) Verdict: This was the only dish that was a let down. The veggies were cooked to a near pulp and the sauce had a weird flavor to it. Despite this, the dish was devoured quickly as well.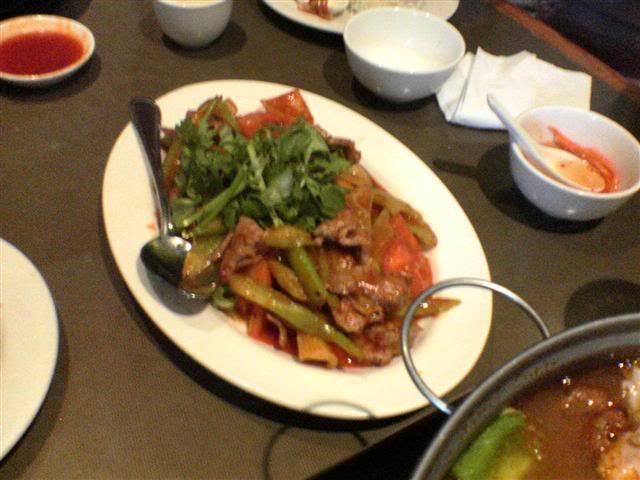 Tom The Rim Man (heh that sounds funny... Tiger Prawns carmelized w/ garlic, onion, fish sauce & black pepper) Verdict: Probably the highlight of the meal. The prawns were sweet and succulent and the flavors of the ingrediants really complimented the prawns well. Someone kill me now, I'm so hungry!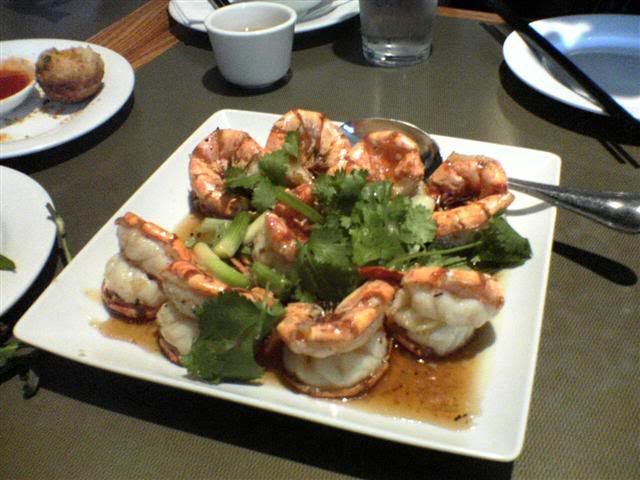 My dad and I wanted to get frogs legs, but we all agreed that this was already a lot of food. Next time for sure!

Dessert: Fried bananas with tapioca. This wasn't on the main menu, but it was recommended by our waiter. Verdict: Ugh... not good. Just... forgo dessert if you try this place. The bananas had a pink blush tint to it in the middle which we had no idea what it was. I took one bite and wanted to spit it out. Justyn lapped up the tapioca though. He loves that stuff, and I don't know why.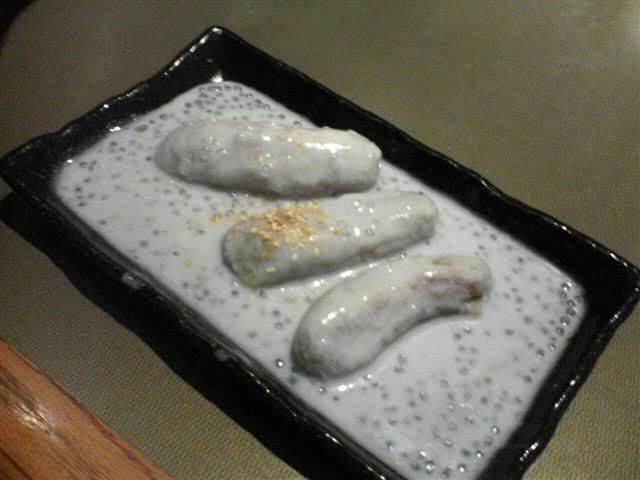 So overall? Really good! I give it a 10 of 10 which would be a first for my foodie blog. I'd go again and again just to try everything on the menu. The food came out extremely fast. Within 10 minutes of ordering, our dishes came out, one after the other. It's not really a gripe, but my mom did feel rushed as she was eating, but Justyn said it's probably because everything was so good. I agree! In fact, here's the aftermath of lunch.

Vung Tau Restaurant
535 E. Santa Clara St.
San Jose, CA 95112
Phone: 408-288-9055