On Friday before we left for Lake Berryessa, Donoho and a couple friends met up at GoJo Ethiopian Restaurant. It's located on San Carlos (not Mudai Restaurant). Justyn thought he knew which restaurant we were meeting at so we went to Mudai instead of GoJo. Here I thought that Donoho was late yet again, so I almost went into Mudai to ask if they were previously known as GoJo. Luckily, Donoho picked up his phone when we called to check one more time. So further down San Carlos across the street from McCotton's (sports store) is GoJo. As we were on the way there, we kept singing "in the gheeettoooo". San Carlos doesn't give me a warm and fuzzy feeling. Instead, it's what it is... the ghetto. I figured that since Mudai wasn't the restaurant we were supposed to hit, that this part of San Jose must have a heavy Ethiopian population.
We ended up having to park in the Burger King parking lot since there was no street parking. Donoho parked his bike on the sidewalk. The decor of the restaurant is ghetto but heavily influenced by ethnic pictures and colors. Donoho had us sit at a low glass circular table and low chairs which was the first thing that interested me. We don't sit at regular tables? Neato...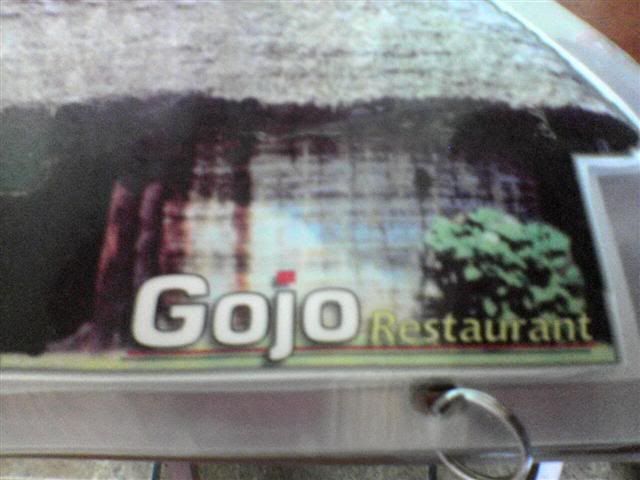 Here's a picture of our cool waiter (I think he might be one of the owners too)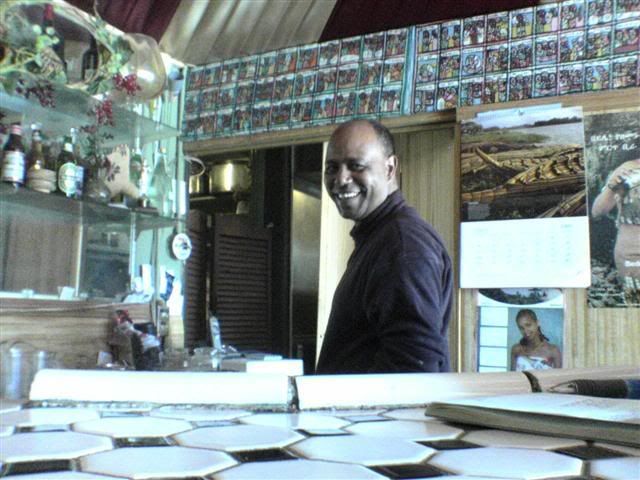 Since I had been on my 2 weeks of not drinking, I was driven to try some Ethiopian beer or wine, but Justyn said I couldn't until we got up to Lake Berryessa. Donoho ended up giving me a couple taste sips of the sweet almost Port like (to me anyway) Ethiopian honey wine. Yum....
Here's some tea that one of Donoho's friend's ordered: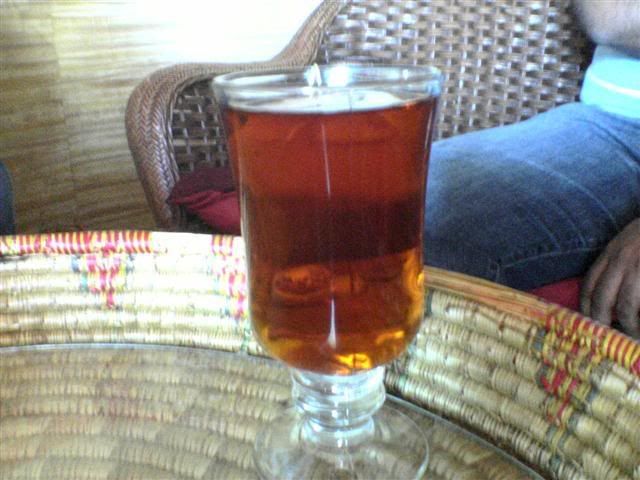 Since Donoho had been at the restaurant before, he had already ordered a bunch of food which would be served community style. A large plate topped with different meats, curries, greens & even egg was placed before us. Under all of this was a sponge/pancake like bread which immediately began soaking in the flavors and sauce. Additionally, we had more sponge/pancake stuff to scoop up the variety of dishes that kept on coming. I thought it'd never end.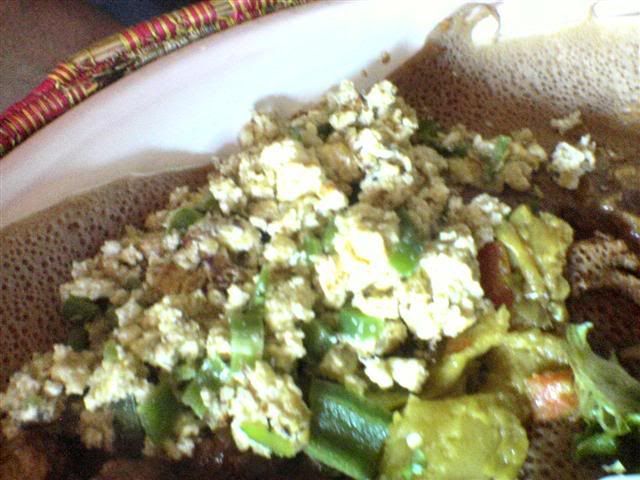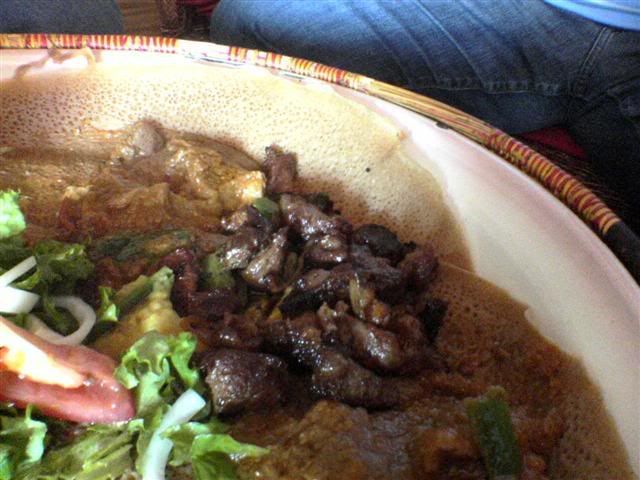 So the verdict? Yummmy! I'm glad this restaurant was picked as my first experience in an Ethiopian eatery. There was a lot of flavor spice and a little kick of sourness in the meats. I tried the egg, and it tasted just of scrambled eggs. Donoho added some spicy red looking powder to it which I didn't try. The greens were great too. At some point I said outloud "Man, this is tasty spinATCH." Donoho thought I said something else which you can pretty much guess. The curry had a nice heat background although the lamb was a little on the tough side. This is definitely a must for those that are adventurous and want a lot of good food. I can't wait to go again!
The Aftermath (Jason can seriously get his eat on!)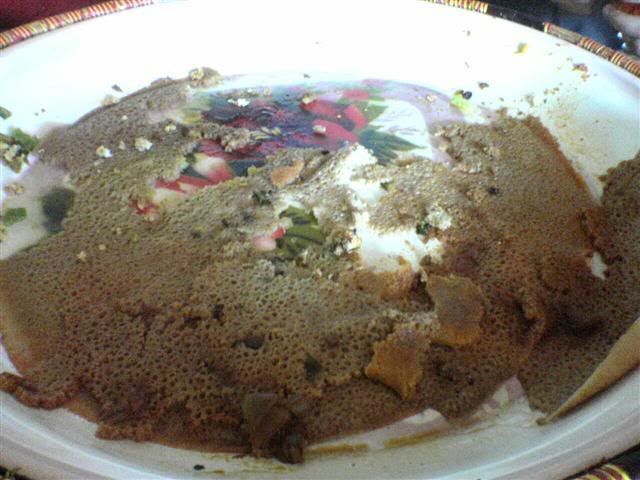 GoJo Restaurant
1261 W San Carlos St
San Jose, CA 95126