This week has not been very kind to Justyn and I. We've both been stressed out with work. Wednesday & Friday, Justyn was so busy that he had to stay at work a couple hours overtime and he still wasn't done with it. Since we carpool, I had to stay at work to wait for him to finish. Justyn felt bad about it so he took me out to dinner at Fiesta Del Mar. Whenever I go to a Mexican restaurant, I always get enchiladas. When I say "always" I mean ALWAYS. I love them that much.
When we sat down to order here's how our conversation went.
Me: I already know what I'm going to get.
Justyn: Enchiladas?
Me: Yep!
Justyn: Again? Why don't you try something different? Don't tell me, you're getting ground beef enchiladas aren't you?
Me: Actually.. no. I'm getting pork this time! Aren't you proud of me.
OK... I know you anal foodies out there are cringing at the thought of ground beef, but it makes some kind of sense as to why I like that kind of enchilada. You see, ground beef soaks up all of the different flavors from the sauce and seasoning. Carne asada and pork don't really do that. Well, it does, but not as much. At least in my opinion.
Anyway, so I ordered my pork enchiladas and also decided to get a margarita. I looove getting drinks to match with dinner. I don't know what it is about libations and food. Oh wait! Maybe it's because that's the way it's supposed to be. Just like wine pairings with good food. So, I order my drink and Justyn gets a tostada and taco. Wait.. rewind. So I ask the waiter to recommend a drink for me and he points at the one that's the most expensive. However, I didn't know it at the time. The margarita cost $9.50!! Ouch, but whatever. The waiter then asked if I was over 21. I jokingly said "no", which made him seriously suspicious. I showed him my license, but that still didn't convince him. He asked me to take my license out of my wallet so he could inspect further. Once he was convinced he apologized. I didn't mind. I thought I was being funny, but I guess not.
My margarita arrived soon after I ordered it. What did I think of it? Hmm, well for $9.50 I was hoping for a bigger serving. Here it is. You be the judge if it was worth it or not.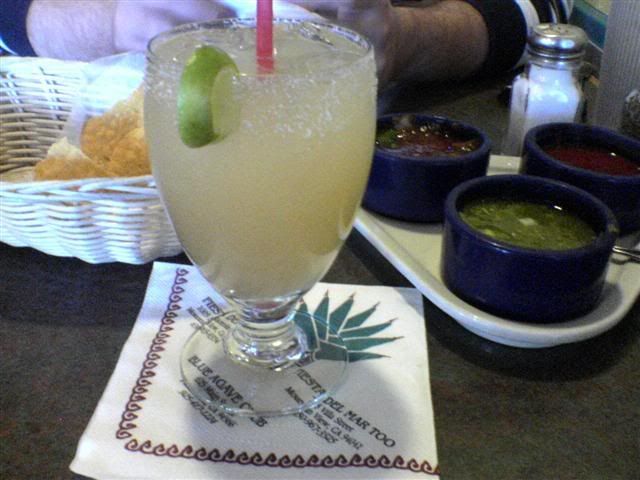 Oh yeah, the chips and salsa. Those were good. I was pleasantly suprised that the tomatillo salsa had a nice heat to it. Normally, that kind of salsa is not hot and at times sour. So that was good. I think my new favorite snack food are chips and salsa.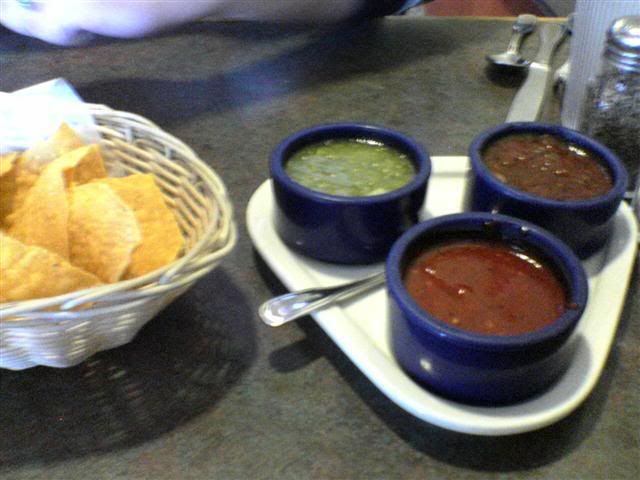 Service was good. Our entrees arrived within 10 minutes of us ordering. Flavor wise, it was delicious. My enchiladas were seasoned well and the beans (which I normally never get) were good too. I scarved down the enchilada, beans and rice but I couldn't finish the second one. Justyn devoured his taco & tostada quickly as well.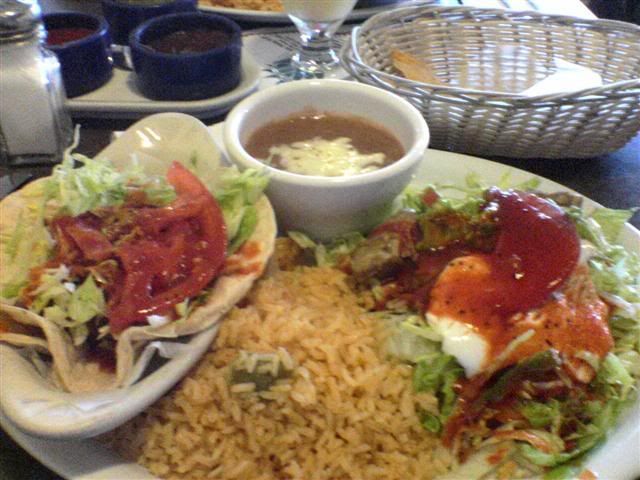 The atmosphere at Fiesta Del Mar was good. It's no wonder why they were rated as top 2006 places to eat by Wave magazine. I'm giving this place a 8.5 of 10.
Fiesta Del Mar
735 Villa St.
Mountain View, CA 94041