Originally Posted on 08/20/06
This is a gratuitous post filled with gross sugary cuteness.
I love Sunday mornings when I get to be cute with Bee. This morning we cuddled in bed and since I was "bad" last night, I decided to get breakfast for him. I went to Albertson's and got him a tall drip coffee in a grande cup with three Splendas, cinnamon & white chocolate. I also got him a croissant with butter & strawberry jam and some cantoulope (sp?).
Here's a picture of the half eaten stuff. Cuuuuute! :)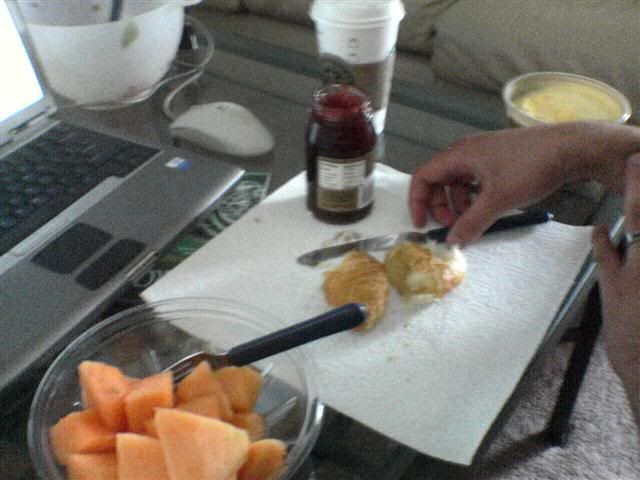 Tonight Justyn made dinner for me. Three-Cheese Beef Pasta Shells with steamed broccoli & cauliflower.

Here's the recipe and picture:

Ingrediants
24 uncooked jumbo pasta shells
1 lb lean ground beef
1 jar chunky tomato pasta sauce
1/4 cup of water
1 container of chive & onion cream cheese spread
1 1/2 cups shredded Italian cheese
1/ 2grated parmesan cheese
1 egg
Directions
1) Heat oven to 350 degrees. Cook and drain pasta shells.
2) Brown ground beef
3) Mix pasta sauce & water. Pour 1 cup of the pasta sauce mixture in a bottom of a oven safe pan. In a bowl, mix ground beef, cheese spread, 1 cup of the Italian cheese and egg. Add mixture to the shells. Pour remaining sauce over the stuffed shells and cover with foil
4) Bake for 40-45 minutes. Sprinkle 1/2 cup Italian cheese over the shells. Bake for another 10 minutes until cheese is melted.