Originally Posted on 09/19/06

Yesterday Bill and I went to Amarin Thai Restaurant in Downtown Mountain View. There are two Thai restaurants on one block and I prefer this one over the other. I got the wide rice noodles with ground beef, basil and gravy. It was a little too salty for my tastes, but I still ate it all heh. Bill got some orange colored curry served with brown rice and some kind of bean. That was strange to me since I'm used to having all curries served with white rice. He said it was good though. This Amarin is also not as good as the one in Saratoga. I suppose it had something to do with the fact that we went during lunch. Who knows, dinner might be better. In any case, here's a picture of my plate.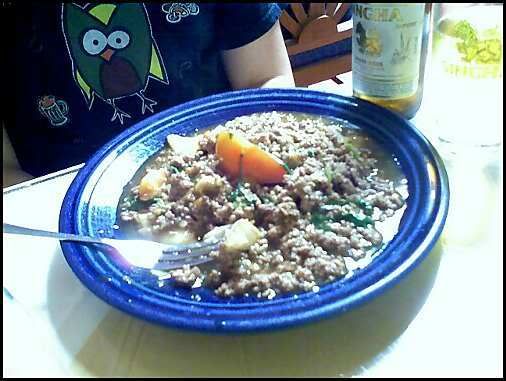 For dinner that evening, I made Justyn dinner for his birthday. Beef Wellington served with a side of blanched asparagus. The dressing I made consisted of shallot, garlic, honey, lemon zest & juice, red wine vinegar and olive oil. I believe I got the recipe for the dressing from Bobby Flay or something. It's got a unique flavor unlike any other dressing out there and it's super easy to make. For the Beef Wellington, I seared the filet mignon and then put them aside. In the same pan, I sauteed mushrooms, onions & garlic and deglazed the pan with a splash of red wine (2BC Merlot). As for the puff pastry, I was unaware that I needed to defrost that for 40 minutes. So dinner took a little longer to cook than expected. The first Wellington I made came out lopsided and weird looking since I wrapped it like a BBQ pork bun. The second one looked much better. The pate was somewhat of an adventure at the grocery store. I stupidly went to Albertson's to get my groceries and as it turns out, they don't carry duck liver pate. Instead, I used liverwurst. As for the flavor, it tasted really good. Justyn cleaned off his plate as well as mine. He said "well, now you can mark this one down as a success." That made me really happy. I learned a lot from making this and hopefully in the future, it'll be better.