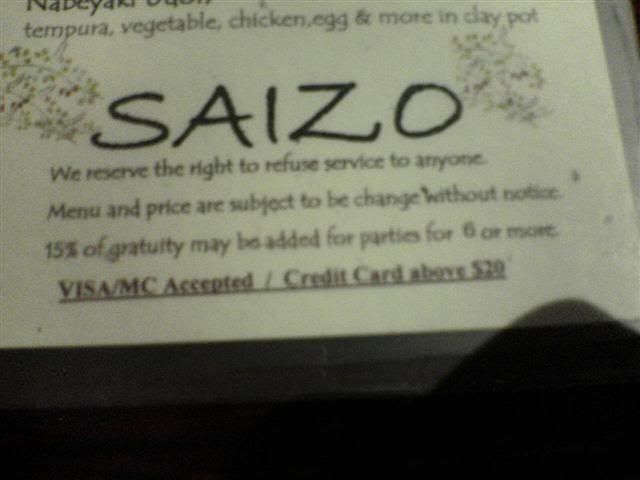 Yesterday, I was on yelp looking for a restaurant for lunch since I was bored. I stumbled upon Saizo which got high ratings on yelp so I decided to try it out. Justyn and I invited Angel along with us.
The restaurant is located in a strip mall on El Camino in Sunnyvale. Inside of the restaurant we were seated at a corner booth kind of set up. Along the wall on the right is a long wooden bench seat lined with pillows for seating comfort. We were immediately served green tea and water and perused the menu for eats.

I decided to be adventurous so I got the duck soba noodles and Justyn got beef katsudon (panko crusted deep fried beef over egg, onion & rice). Angel did the direct opposite of me by ordering beef teriyaki (be more daring come on!!). What suprised me was that the waitress asked Angel how she would like her beef cooked. I've never been to a Japanese restaurant where they ask you that. That's a good sign. Anyway, after five minutes of conversating we began to smell Justyn's egg for the beef katsudon being cooked. That led to conversation about who likes which part of the egg which I thought was wasteful. How do you eat one part of the egg and throw the other part out? Yeesh guys... tsk tsk.

Eventually, our entrees arrived. It was good.. the broth for my soba noodles had a lot of deep flavor in it. Slightly sweet, nice fresh taste from the scallions, good earthiness from the shiitake mushrooms.. Mmm.. I tasted a piece of Angel's beef teriyaki and it was good as well. Tender and juicy and sweet from the sauce. Justyn's beef katsudon was OK... it was weird. I'm used to having katsudon with a soy based sauce on top of the egg, but their was a BBQ like sauce squirted on top of the fried goodness. It was different, but good. I enjoyed my lunch and I'm sure the other two did as well. It was pretty quiet while we were eating since everyone was busy scarfing down their lunch except for the intermittent slurping of my noodles.
Price wise, I thought it was decent. It might be higher than what you're used to paying if you're eating fast food every other day. Our entrees were about $8-$10 each.
I'll give this place a 8.5 of 10 and I'd definitely go back to try their other dishes.