Originally Posted on 11/08/06
I haven't posted in a while, but here's why
This post will take place from Tuesday (10/31) through today (11/08).
Tuesday (10/31) - I got to work at around 7:00am with a stuffy nose and scratchy throat. I believe that I was getting a cold which was not good news for the upcoming week in Vegas. I decided to call it quits around 10:00am to go home and pack. Justyn and I packed the best we could, but I needed Angel to help me make sure I had everything I needed. She came over around 7:00pm and was stuck in a traffic jam. I felt really bad, but eventually she made it. While Justyn cooked dinner consisting of ribs, coleslaw and scalloped potatoes, Angel and I went over what I needed for the trip. She was really helpful with it and made me start packing all over again. This was a good idea, or I would've overpacked. She also helped me fold the gianormous pile of clean clothes I had leaned up against the patio door. This took us about an hour and a half to do and I'm so grateful she made me do this. We ate dinner, talked and rested after that. A while later, Angel left since she had to work the next day.
Wednesday (11/01) - I woke up around 4:30am freaking out. I had a couple bad dreams about how I missed the wedding twice. The first time I was dicking around in a pool with friends during the bachelor/bachelorette party and looked at the time. I jumped out the pool and raced back to the chapel where my mom had rearranged everything. She said she was paying for it and that we were going to do it her way. Then I was transported to Yosemite where I was late for the ceremony again. I had to ask a random BARFer (wannabe) where my car is and that if he wanted to come to the wedding, he could. After I woke up, I needed to take a shower and get ready. Justyn woke up shortly after that and got ready as well. Soon after that, we packed up the car and left for the airport. Since we were both somewhat early, we got "breakfast" at the airport. Justyn got a breakfast sammich from Burger King. I don't much prefer breakfast, so I got won ton noodles from the chinese restaurant next door. Before you "ew"... it wasn't that bad. OK.... in reality, it wasn't bad for airport chinese food. Check it..
We landed in Vegas fine until we got to the carousel to get our checked in luggage. The idiots dumped 8 flights worth of luggage onto one carousel which took us about an hour to find ours. We were pretty irritated at this and stomped off to get our rental car. The rental agent told me to take a shuttle to where all the rental cars were so that took another hour or so. By the time we checked into the Plaza hotel, it was already 3:00pm. We decided to get lunch at some Chicago pizza place. Justyn ordered a small personal pizza and I had filet mignon sliders. It was OK at best. After lunch we watched some movies on Justyn's laptop and played a little blackjack.

For dinner we decided to try First Street Grill (I think that's what it's called). It had a Zagat award so we thought it couldn't be that bad. We were right. Well half at least. Justyn ordered the steak which was topped with blue cheese and shoe string fried onion thingies. The steak was perfectly cooked and juicy inside. It was really really good. Probably the second to the best steak I've tasted. Now for the downside. I was on an Asian cuisine kick that I couldn't shake. I ordered the seafood stew which was water and gross. I took about 4 bites and couldn't stomach another. Justyn said "See? I told you, you can't order aZn food in Vegas. It just isn't right.". I knew he was right, but crappy Asian food was better than none at all. I was full from drinking anyway heh. This place had reasonable prices for what was served. Both our entrees came with soup or salad and bread. If you're looking for a good deal and great steak, go here. I think it's located in Binions Casino.
Thursday (11/02) - One more day until people started arriving. We got our marriage license and did a little more gambling. For the most part, uneventful. Although we did go to Bobby Flay's restaurant, Mesa Grill. We were already at Caesar's Palace and I wanted to visit the same restaurant that Tony Bourdain did when he was in Vegas. We ended up ordering an appetizer which was the Blue Corn Pancake. This had BBQ duck, habanero sauce, and star anise sauce. It was good, not spectacular. I also noticed how small the portion was. It is an appetizer though, so OK.. I'll let that go. The presentation was nice though.
For our entrees, I had a shrimp cake. Note that it's not pluralized. Yeah, one shrimp cake. How could you even consider the below an entree? Secondly, when I bit into it, it was cold! That means it was prepared, put in the fridge, taken out and pan fried. Lame... I was highly disappointed with this dish. I sent the cold shrimp cake back to the kitchen. As I was waiting for them to bring another one, I watched people order burgers and fries which looked incredible. Next time, if there's a next time, I'm getting the burger and fries. They looked mouth wateringly good. My replacement shrimp cake arrived shortly after. OK... I'll give it another try since it was steaming fresh out of the kitchen. Nope, the inside was cold. Argh.... at this point I gave up on Mesa Grill and Bobby Flay. Nasty. Justyn ordered the Spicy Chicken with Sweet Potato Hash. Now that was good. It was perfectly spiced and seasoned. The flavors worked really well together even though I dispise sweet potatoes. Yum! I don't know if his entree made up for my disgusting shrimp cake.. but yeah. So overall, I was disappointed with Mesa Grill and I probably won't go back unless it was comped or something. It was definitely not worth the price for the small amount of food. If you're going to charge high prices for bite sized entrees, it better be good. Anyway, here are pictures of it. Trust me, the pictures look better than they taste.
Oh, I also tried a deep fried Twinkie for the first time. Ouch.. never again.
Friday (11/03) - Angel, Justus, Ken & Bill arrived about 10:00am. We immediately hooked up with them since they couldn't check-in until 12:00pm. They were all hungry so we went to McDonalds to get them some breakfast. Justyn, Bill and I decided to wait around for something better. We played a crappy motorcycle video game to which I lost to Justyn. (It'll never happen again) After that we got deep fried Twinkies at Mermaids which is just a slut casino. Justus tried it for the first time. I wouldn't touch it since after trying it on Thursday, my heart felt like it was constricting. Angel played a lot of sluts and wouldn't stop until she won a nice sum of money and I tapped the "cash-out" button. Wait... she didn't stop after that. Justus needed some cool shades so he went shopping for some.

Yustus eating deep fried Twinkie:
We played some blackjack back at the Plaza and drank. Towards the afternoon, everyone got checked in.
Angel and I had an appointment to do a trial run on my hair & makeup at Allure Salon. We got there late since it was difficult to get a taxi due to SEMA and some other convention being there the same weekend. We got there around 1:25pm. The hairdresser asked me the type of hairstyle I wanted. I said "wavy & down with an uneven part". What she gave me wasn't what I expected. She curled it and sprayed hairspray all over it and put green eyeshadow on me. I don't know much about makeup, but I know what doesn't belong. I hated the look I got as did Angel, once she got her hair done. Since we took a taxi to the salon, getting a taxi to get back to the hotel was a pain in teh ass. It look us almost an hour and a half to get one and by the time it arrived, we had already told Justyn, Justus and Ken to come pick us up in the rental car.

After we all got back to the hotel, I quickly changed and got ready to meet my parents for dinner. Justyn had decided on Grotto in the Golden Nugget. My expectations for it were low since I hadn't had a good meal since we arrived. I was pleasantly suprised by how good the food was. Here's what we had. I'll let the pictures speak for themselves.
I had the seafood ravioli:
After dinner, I took my mom to the giant slot machine so she could try it out:
Ken had said that engineboy would be in town so he was going to go to dinner with him. Eventually, Ken & engineboy hooked up with us and we went to a strip club called Glitter Gulch. At this point, I'm heavily buzzed so things started getting blurry. I remember engineboy and friends buying us copious amounts of tequila (or maybe it was Justus that bought them). In any case, I was forced to do a shot, which I half assed. I just sipped on it. Then people started buying us lap dances. I bought Justyn two hot ones that he enjoyed very much. Then I got lap dances and tasted some stribber boobay (not recommended). In return, Justyn and I bought EB & friends and others some lap dances. I had the best time evar! The only bad thing was that it was sweltering hot inside. Angel and I decided to go outside for a smoke. Then she decided that it was time to go ni ni. I don't remember anything after that. There's a possibility that I passed out.
Saturday (11/04) - Today everyone else arrived. We met the group in front of the Plaza hotel to have breakfast somewhere.
We ate breakfast at Binion's restaurant which was only OK. I didn't even take pictures of it since it was so mediocre. Fortunately, Justus and I decided to get drinks with breakast, so that made up for it by like... 100%. After breakfast, we went back to the Plaza for more gambling. I started getting calls from people that were still arriving so I had to meet up with some of them a few times.
In the evening was the official bachelor/bachelorette party. Justyn had heard good things from someone about The Libarary. The only thing I'll say about this place is: NEVER EVER GO THERE EVER. It was just about the shittiest strib club I've ever been to. Kris suggested we all head over to Spearmint Rhino. We didn't have enough cars to take everyone, so we had to go in groups. Again, with the shitty taxi situation.
When we got to Spearmint Rhino, it turned out to be a $30 cover. $20 for lapdances and booze was ridiculously expensive. However, the girls were top notch. I'd say it was worth the price paid, but towards the middle of the night I just wasn't feeling well. I started having a crappy time and needed to go outside for some air. Then, unlike my usual self, I started crying. I think all the stress, drinking, fun, and emotions got to be too much and I had a breakdown. Angel and I ended up leaving the club early to head back to the Plaza. I told Justyn to keep everyone there because I wanted to be alone. By the time I got back to the hotel, everyone was out of money and decided to head back as well.
I don't remember much of the rest of that night except everyone going to Derek's room and drinking sweet & sour mix with tequila. That sent me over the edge. I don't remember if it was me, but someone started an ice fight. Angel and I sought revenge.
Sunday (11/05) – The day of the wedding arrived very fast. In the morning we had breakfast with Donoho at the diner in the casino. I had chicken fried steak which was probably not the best to start the day with. After that, Angel and I went back to the room to take showers and get ready for the salon. Unfortunately, they hadn't clean our room yet, so I had to take a shower in Angel & Justus' room. Instead of going to Allure salon, we decided to try out the salon in the hotel. It was much less stressful than having to get a taxi to take us to the other one. The hairdresser chatted us up while doing my hair. She did a much better than the one at Allure. Angel also got her hair done. By the time Angel was done with her hair, my sister arrived at the salon to take pictures and hang out with us. In addition to my hair, I got a manicure & pedicure. When we were done, I believe it was 5:00pm. All that was left to do was getting the wedding dress on. The guys got ready in Angel's room and they looked good. Bill, Ken and Justyn were all gussied up and Justus had his kilt on. By 6:45pm, the guys had left for the chapel. The dress took a little longer than expected, but we left a few minutes after the guys.
As we arrived at the chapel, my heart started beating faster than normal. I think I was a little nervous, but once inside, I calmed down. The lady at the front office put me in the bridal dressing room with my bouquet. I had Angel and my sister sit with me until my dad came by. Everyone else was seated in the chapel. I took some pictures with my family & friends. All of the sudden I overheard the lady in the front tell everyone that the ceremony would be delayed. I also heard something about the marriage license missing. I felt my skin flush with blood even before someone told me what was going on. Apparently the license was left in the hotel room in the other folder. Since the license wasn't at the chapel, they had to delay the ceremony. Luckily, the hotel was about a mile away, so it didn't take long for Angel, Justus & Derek to get it. (Derek, you drive crazy!!) They arrived about 5 minutes later with the license and we were on our way. The photographer snapped pictures of me and my dad while talking gibberish about things we couldn't care less about. Then, Angel was asked to stand in front of the door. My heart started racing again..
My dad and I were asked to stand behind Angel in line and the ceremony began. She walked through the doors as we moved up in line. I heard some cheesy music and then the infamous chime of the wedding song. We walked through the doors and saw all of our friends and family standing as we walked down the aisle. I saw Justyn standing smiling in the way he does as I approached him. Angel across from him and before I knew it, I was standing next to Justyn. The officiant started his sermon and then asked Justyn & I to say our vows. It was emotional for me when I said mine as I felt tears run down my face. Then the photographer's phone rang. Perfect! That was a good break for me to take a deep breath and continue. We lit the unity candle and the officiant finished up. Justyn and I kissed and it was over.
The photographer wanted us to take some pictures outside, so we quickly wrapped that up as we had to rush to the reception at the Stratosphere. A small group of us stayed behind to review the pictures in the photo room.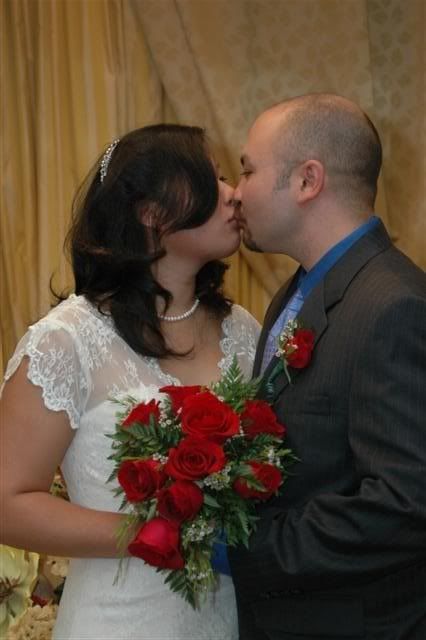 Everyone had already gone to Fellini's before the small group that stayed behind. We sat down and dinner began. The reception was fairly short. Some people left early to catch flights home and before I knew it, I was throwing the bouquet over my head and Justyn was taking the garter off my leg. Everything went by in a blur, but it was really fun.
Pictures at the reception:
Justyn and I decided not to go back to the room, but instead hang out with everyone. We gambled and drank like it was our last night in Vegas. At least, I felt like I did. There was a couple at our table who congratulated Ken and I, thinking Ken was the groom. They kept on ordering us Jaeger shots which pretty much sent me over the edge. In the meantime, the dealer (Douglas) was dealing us pretty crappy cards although we were winning. According to Ken, I called the dealer a bitch. I don't even remembering that part. After that, I was done. Ken got Justyn and they both hauled me back up to the room.

Monday (11/06) – We had to wake up early to pack and check out of the hotel. It was around 1:00pm when we left and were on our way to the car rental place to drop the car off. Apparently the airport was packed at the security lines and we needed as much time as possible to get through it. Angel, Justus, Bill & Donoho all got the same flight as us which was a very nice coincidence. We met up in the airport food court and had lunch. I don't think anyone was feeling 100% since everyone was quiet for the most part. Finally it was time to board the plane and we were on our way home. I had a massive headache and my stomach was gurgling from the weekend. I wasn't feeling well. I decided to take a nap and drink some water. Eventually we landed in San Jose. Ahhh.. back home, finally. Since Bill and Ken lived close by, we took them home.
Tuesday (11/07) – I took the day off to recover and clean up. After that, I just took it easy and drank lots of water to recover enough to be able to go to work the next day.
Wednesday (11/08) – Back to work. I think I should've taken the rest of the week off, but I also think I needed to get back to work. I had 206 emails waiting for me and a bunch of work piling up. I didn't work as hard as I could've, but I got most of it done. It feels good to be back home and used to regular life as I know it.
Next year, I'm going to go back to Vegas to celebrate my anniversary with Justyn. Hopefully people go with us again and it should be a blast! I can't wait…. Yes I can. For now, at least.